1: I got energy, got a lot of energy
Sarina: Who has more energy than [Special Teams Coordinator] Joe DeCamillis?
JuJu: More energy on this team? I don't think anybody has more energy than Joe.
2: I've got a tooth to pick
Sarina: How many toothpicks have you gone through today?
JuJu: Yeah, this might be the third one today. I'm kind of rolling through them today. That's a high number for me.
Sarina: Favorite player to defend on the Rams?
JuJu: My favorite player to defend probably is Cooper Kupp. He's a fun guy to go against. He gives his all every time. He's a great receiver. He's my favorite guy to guard.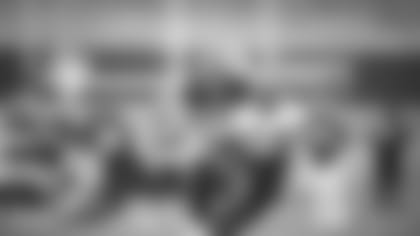 Sarina: If you could trade lives with anyone for a week, who would it be?
JuJu: It would probably be with another professional athlete. I'd be an NBA player. I'd be LeBron [James]. He's a real businessman. He has a lot going on. So, like on the court, I'm getting to be Bron Bron and off the court I would get all the benefits that come with that.
5: Speak it into existence
Sarina: What do you envision your first NFL touchdown to be? Is it a pick six?
JuJu: Definitely a pick six. I'm jumping on a little out route, you know, breaking on it. So hopefully, that's coming here soon. Speak it into existence.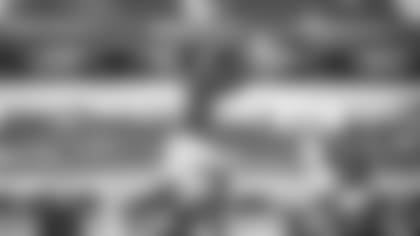 Sarina: If you ever got mic'd up, what should fans expect out of you?
JuJu: They're gonna hear me talk a lot of ball. I talk to all the guys about everything going on. A little profanity, so excuse my language, haha. Fans excuse my language. I'm hard on myself. But yeah, they'd have to edit out some of the stuff they hear me talk to myself. Definitely talk to myself, because I'm hard on myself while I analyze what I do as I'm doing it.
Sarina: Which teammate would you pick if you had to perform at a Super Bowl halftime?
JuJu: Terrell Burgess. He could give me every dance move. He is not a shy dude. So, he would be bouncing out there. He would perform. Steal the show. I'd be the back-up and let him do his thing.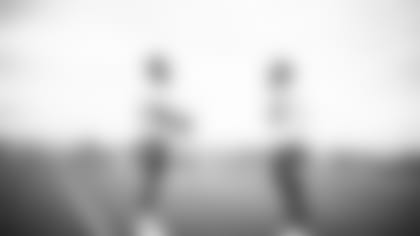 Sarina: This defense is scary. But what are you scared of?
JuJu: I don't like bugs and things crawling and spiders and stuff. Not a big fan of things like that. I can go without any of that.
Sarina: Tacos versus In-and-Out?
JuJu: I'm gonna go tacos. There's different varieties.
Sarina: Favorite exercise?
JuJu: Core work. Nothing specifically. But you gotta look fresh. All abs.