Sarina: Let's get an update on your health. How's that ankle feeling?
Terrell: Feeling great, feeling really well. I'm excited for the season to start.
2: Tough to stop when you just got started
Sarina: What was the hardest part of getting through this whole process?
Terrell: I think knowing that the season was like over for me. Not the team, but like that I wasn't going to be able to play the rest of the season kind of sucked because I really felt like I was just starting to get my feet under me, and the season was going well for the team. I've never sat out that many games.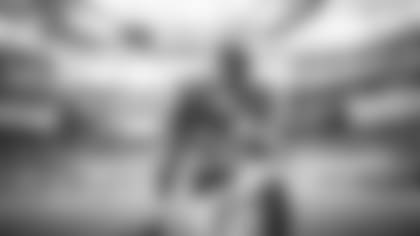 Sarina: A lot of people are cheering for you to have a breakout/comeback season. Who are you cheering for on the team?
Terrell: I hope everybody has a breakout season. Then that means we're going to win the Super Bowl! (Laughs) So, I hope everybody plays well. I hope Matthew Stafford comes in and plays well. I believe he will. And maybe they'll finally give AD [Aaron Donald] MVP.
Sarina: You were born in Oceanside, CA and lived near San Diego County much of your life. So, are you a good swimmer? A good surfer?
Terrell: Definitely not a surfer, I can swim pretty well, but I wouldn't consider myself a surfer. Far from surfer, I've never surfed before. I don't even know if I've ever stood on a surfboard before.
Sarina: Goals for the 2021 season?
Terrell: I don't know if I have any individual goals. I kind of just want to do what I can to help the team win. I want a chance to get out there and play more, more than I did last year obviously with the injury, but I mean everyone always wants to win the Super Bowl so let's roll with that one.
Sarina: You get to work with one of the best corners in the league. What is something surprising about Jalen Ramsey, that maybe people aren't aware of?
Terrell: I think everyone like depicts him as some like huge trash talker but there's like a good balance in my opinion. I don't think it gets in the middle of him playing. He's a healthy trash talker. You want a little bit of that [in games], It makes it more fun and it just kind of hypes you up.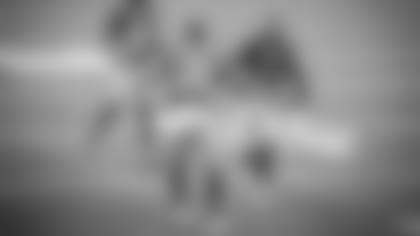 7: Some things can't change
Sarina: What is the movie you always watch when it's on television?
Terrell: Friday Night Lights. That's one movie that I always watch and every time I watch it, I hope they're going to win at the end. (Spoiler Alert) I hate it every time.
Sarina: Would you rather have unlimited sushi for life or unlimited tacos?
Terrell: Tacos because I feel like I could eat tacos three days in a row. I don't know if I can eat sushi three days in a row.
Sarina: What is your most prized possession?
Terrell: My college degree and my Rubik's Cube.
Sarina: People are always yelling at the TV when they watch Rams games, do you also yell at the television when you watch?
Terrell: Oh, one hundred percent. I know my neighbors hated me from games eight through 19. Oh my goodness, I even had the windows open. Every Sunday. They definitely heard me.