Each week during the season, we interview a different Rams player to find out about their lives on the field as well as off of it. Team Reporter, Sarina Morales, asks the questions fans want to know, in a fun and conversational interview. This week, offensive lineman, David Edwards, spoke to Sarina about his off-season plans, why he won't upgrade his seat on a plane, and how living in California has changed him.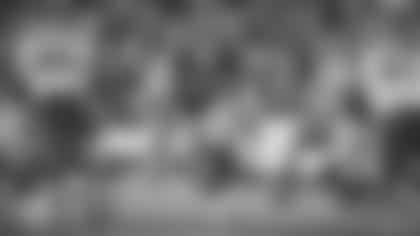 Sarina: Off-season plans for you?
David: Going to go back to Illinois, with my fiancé in January. And then we're going to come back out here beginning of February and start training.
Sarina: You going to take a vacation?
David: We might go to Mackinaw, Michigan. So, my fiancé, her family, is from way up north in Mackinaw, it's a really cool place. We're going to get married there, but her family is up there, I've been up there a couple times. It's super laid back, simple, and all the people are great. And so there's Mackinaw City, and there's Mackinaw Island. And Mackinaw Island is super awesome.
Sarina: Favorite vacation?
David: I haven't gone on one as an adult, adult. When I was in high school, one of my best friends took me and another buddy on a Mediterranean cruise. And that was one of the coolest things ever. We went to France, Spain, Italy, Croatia. It was so awesome. I'm definitely going to do it again.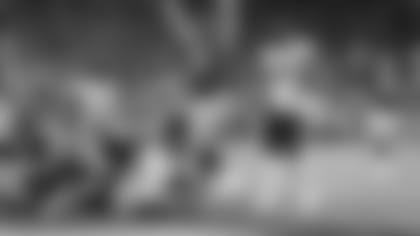 3: Planner or go with the flow?
Sarina: Are you a planner, or do you just go with the flow?
David: Big planner. One of the things I learned at Wisconsin, whether it's football or life, it's always have a plan. Always have an idea of what you're going to do, and the process of the change. That's one of the cool things as a player, we have a plan.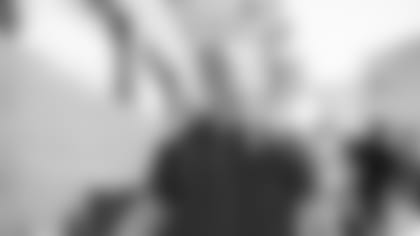 Sarina: Are you an aisle or a window?
David: I'm an aisle guy for sure. But I really don't like to upgrade seats. Like legroom seats for flight, I actually don't do that. If I sit in regular economy, I don't care, because it's three hours. I'm not going to spend a hundred and fifty dollars for three hours.
Sarina: Interesting. Because you're... How tall are you? You're a big guy.
David: Yeah, I'm stuffed in there. My fiancé… because we're flying back to Chicago tomorrow, she was like, "Do you want to upgrade to economy plus?" I was like, it's three hours, I can suck it up.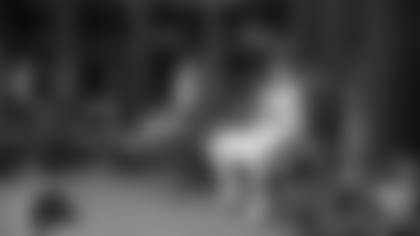 Sarina: Who is the teammate you will miss the most this offseason?
David: [Austin] Blythe. Blythe's my guy. One of the things I was nervous about when I first got drafted, was how veterans would treat me. [Andrew] Whitworth's been great, Rob [Havenstein]'s been great. And Blythe and I formed a pretty cool friendship and I feel like Blythe would be the guy I miss most. I really hope that we can connect [this offseason]. I've been around him and his wife, his son, Reed. He's a great dad. Just someone I look up to and admire.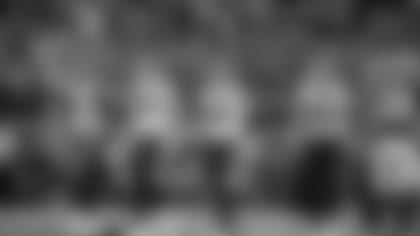 Sarina: The 2019 season was…
David: In one word? Crazy. I came in and started cross-training in different positions. That was totally new to me. And then when Joe Noteboom got hurt, I got thrown in at left guard and never expected I would start games at guard, because I never played the position before. And then got moved to right guard. Just all the different things I did this year I never would have thought I could have done. So, it was cool. Looking back, if you had told me, preseason, you're going to start games at guard, I'd have said no way. I'd never played it before. It was just really cool to be cross-training when I got here in OTAs and then see the work that I put in come to fruition. It was cool.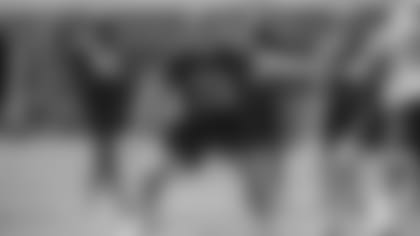 Sarina: The 2020 season will be?
David: Exciting. I'm really pumped. I just think I have so much room to grow as a player, as my body physically matures even more, I just feel I still have so much growth there, and that gives me so much excitement. I'm excited to be able to have an off-season at guard, learn that position. Be able to train and proactively train, continue to eat better. I just think the outlook for this offseason is nothing but positive. I'm super pumped. And just the vibe around here. Things didn't go the way we wanted them to this year, but I just know that everybody's going to have a positive outlook next year. That's exciting.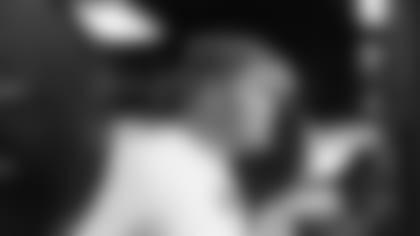 Sarina: Is eggnog delicious or gross?
David: I don't like it. It's weird though, because I'm not an adventurous person when it comes to food, so my fiancé will introduce me to [things]. I didn't have eggnog, to be honest with you, for the first time, until last week. So, when I tried it, I was like, I don't really like this.
David: I've been eating avocado for ever and ever. But, when I was in high school, I was a super picky eater growing up. The first time I had Brussels sprouts was when I was a senior in high school. I love Brussels sprouts now.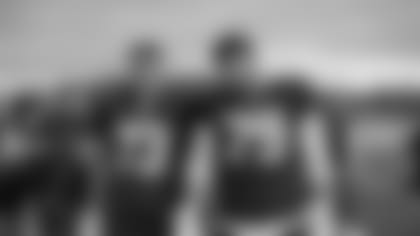 Sarina: What's the most California thing that you do now that you've lived here for a season?
David: The weather has changed me so much. If it's 50 degrees, I'm in sweatpants and hoodies. When I was in Wisconsin, 50 degrees, I'd be wearing a long-sleeved shirt and shorts. I've become so soft with the weather. It's bad.
Sarina: Can you please tell Rob Havenstein that, because he likes to make fun of me for it.
David: Rob, I've gotten real soft.