Sarina: During the offseason, how do you manage your time? You go from crazy regimented to...do you even set an alarm?
Justin: In the offseason I kind of go with the flow. I'll work out, but it doesn't matter what time I'm working out. Go get the workout, but that's about it. It doesn't really matter. I got to just go with the flow in the offseason.
Sarina: Last year's number one defense will be __ this season.
Justin: Will be number one this season as well.
Sarina: What has it been like working with new defensive coordinator Raheem Morris?
Justin: He's a player's coach. He relates to the players a lot. Definitely comes with a lot of different schemes and you could tell he's going to dial up some great things.
Sarina: What is your favorite local restaurant or location in Los Angeles?
Justin: & Waffles. There is one in West Hollywood and one in Woodland Hills. [My go-to is] the chorizo burrito and then a waffle.
Sarina: I saw you went to the Dodgers game with some of your teammates. If you could have a walk-up song, what would it be?
Justin: "Earned It" by Chief Keef.
Sarina: Would you rather go back in time and meet your great-great grandparents, or would you rather go to the future and meet your great-great grandchildren?
Justin: Go to the future. I want to see what the world is like. Are they going to have hover cars? And I want to see where the legacy went.
Sarina: What's that one app you can't delete from your phone?
Justin: Instagram. I'm not a big TikTok(er), I'm not a big Twitter guy.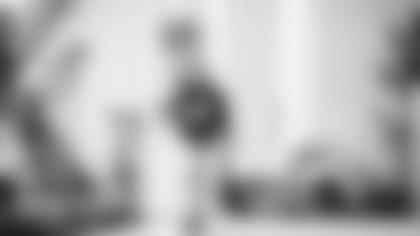 Sarina: You're from Arlington, Texas and I looked it up. There are a lot of haunted houses in Arlington. Do you believe in ghosts?
Justin: I do believe in ghosts. Okay, this makes sense. That makes sense because apparently, we lived in a semi-haunted house in my childhood at one point. I kind of got weird vibes but as a child you don't really pay much attention to stuff. There was weird stuff happening in that house now that I think about it. My parents told me stories. [For example] I'd be in the living room and my mom just cleaned the room. She'll walk out the room, I'm still sitting there watching TV in the living room, and she'll walk right back by that room and the room would be completely messed up again. Like she didn't just clean it. The covers would be all messed up. Stuff like that.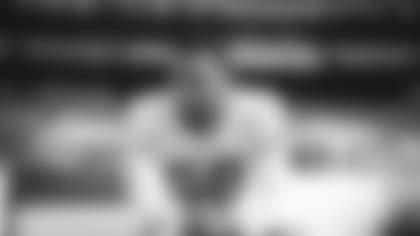 Sarina: To the young kid in Arlington, Texas who wants to make it to the NFL, what do you tell this young athlete?
Justin: Don't have any doubt, and just keep pushing for longevity. Take care of your body early on, drink your water. Stretch. Take care of your legs.
Sarina: What games do you have circled on the schedule this season, and why?
Justin: I want the Chicago game. I have that one circled because it's the first game. And the Tennessee game because I became friends with Rodger [Saffold] and he plays with Tennessee. And it'd be fun to play against them and play against him, and Julio Jones. They got AJ Brown. Derrick Henry, of course, and it'd be a great test for the defense.