Each week during the season, we interview a different Rams player to find out about their lives on the field as well as off of it. Team Reporter, Sarina Morales, asks the questions fans want to know, in a fun and conversational interview. This week, cornerback, Troy Hill, spoke to Sarina about getting his first sack, what his daughter taught him and what he must do before game day.
Sarina: One word to describe the season so far?
Troy: It's been interesting.
Troy: For sure. I mean it was exciting. Got the opportunity to come in and play a lot more. I'm just trying to take advantage of the opportunities. So it's been, it's been exciting.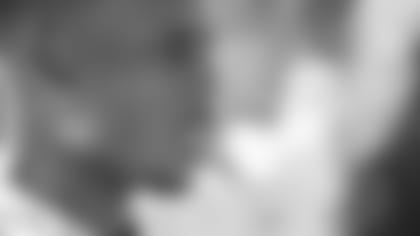 Sarina: You've changed your [jersey] number twice now. What is the thing that has stayed the same?
Troy: Who I am as a person… I ain't let [a] number define who I am.
Sarina: What's 22 worth? Why is it working for you? Because it's working pretty well.
Troy: I actually wore that [number] in high school. So my sophomore year in high school I wore 22 and then I ended up switching to 2 my junior year. Two [has] always been one of my favorite numbers so now I've got it two times.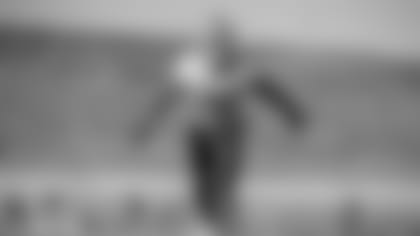 Sarina: You got your first sack!
Troy: Big sacks. (laughs)
Sarina: How did you do that? What were you doing?
Troy: Put me on the pass rush.
Troy: Nah, I ain't that good (laughs). Just perfect timing. Right place, right time. Playing the game. Letting it come to me, not trying to pressure too much. Right place, right time type of thing.
Sarina: What does it feel like… as a corner to get a sack?
Troy: Oh, I feel like I can do anything now (laughs). I'm a football player. I don't just want to be a corner. I feel like if I'm a football player, I can just play football.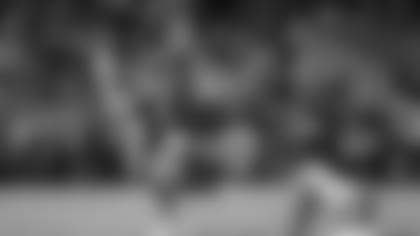 Sarina: How would you describe this DB group?
Troy: I feel like we're hard. We LIVE right now... And we're showing it too. I think we've got a lot of energy and a lot of new faces, but we're meshing right now, so you know what I'm saying we keep putting it together and we [are going to] just keep showing everybody we like that.
Sarina: How's that new face working out? (Points to Jalen Ramsey walk by)
Troy: When you got a person like that who can come in here and take away one side of the field, it allows us to do a lot of different things. So I mean, that was big for us, him coming in and just the energy he brings and the competitive nature. It's just got that trickle-down effect and you can see why he [is] one of the best. I feel like everybody's striving for that right now.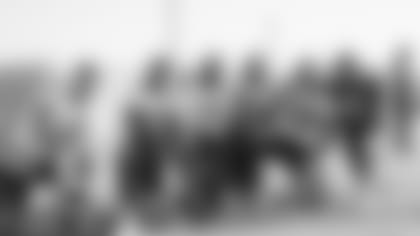 Sarina: Do you know that there's an area in Pittsburgh named Troy Hill?
Sarina: Are you going to go there? I feel like you need to go to Troy Hill.
Troy: I feel like they should pay me. (Laughs) I feel like they should pay taxes to me.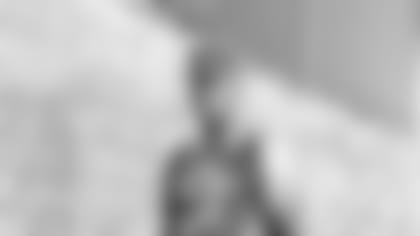 Sarina: You're a proud poppa of a little girl. What has becoming a father of a girl taught you?
Troy: It matured me a lot. Just the way you go about dealing with women and just everything that I do because she's looking at me like I can't do no wrong. Right now, daddy's the world to her. You know what I'm saying? She's daddy little girl. So, for me, I got to have a lot more thought about my actions because I know she's watching me and I know she's looking at me like I can't do no wrong like I said. So for me, I'm just trying to be the best role model I can be to her.
Sarina: You come from a big family, right?
Sarina: What's family to you? You go down on the holidays? Two sisters, two brothers? Break it down.
Troy: You know most people be like, "Oh, that's a half-brother." No, [to me] we're all family. So my dad, he got like 14 kids. I got triplets under me. I got a brother and two sisters. My brother lives with me right now.
Sarina: And triplets? Holy cow.
Troy: Yeah, triplets. I mean he did a good job of trying to keep us all close. We all range from different ages, so we grew up at different times. But, we all try to stay in touch as much as possible. I know for me it gets a little harder because I'm out here doing this and they [are] back in Ohio. When I moved to California it was a little harder, but you know still family so...
Sarina: Yeah because you moved from Youngstown, Ohio. Then you went to high school here [California], right? And then you went to Oregon? This moving situation is a lot.
Troy: For sure. But I feel like that prepared me because when I went to college I wasn't home sick or anything. It was mostly like, all right, I did this. I know how to adapt to it. I know how to get in where I fit in. Make the most of my opportunities and stuff like that. I feel like it kind of made transitions easier for me.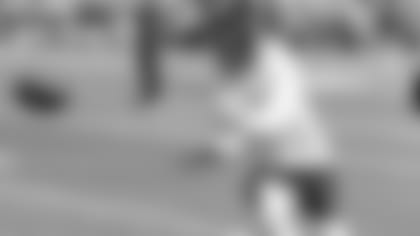 Sarina: What's the difference between playing under the lights besides that the lights are on? Or is there a difference?
Troy: Primetime, it's something different. When you're in primetime you want to show out and make the most of your opportunities because you know everybody [is] watching you. So I feel like that's kind of a little different, but ain't really too much other than that.
Sarina: Other than, yeah, you just want to show up.
Troy: You want to play a little better. You know you got to play a little better because everybody is watching you. You're the only game on TV, you know what I'm saying? But other than that you got to step in between the lines and do what you got to do every time. So I don't really think it's too much of a difference.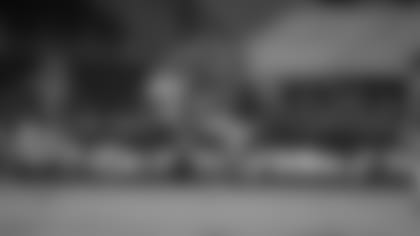 Sarina: What must you do before games?
Troy: Listen to music. Other than that, I be chilling. Go on the field, go out there warm up a little bit before the game, but other than that, just give me some music so I can get to vibin' and get my adrenaline right.
Sarina: Is there a song that you have to listen to before every game?
Troy: Nah. It just depends on what type of mood I'm in. What type of feel I got. Other than that, I'm chillin' man.
Sarina: What was the song that you listened to before you got that sack then?
Troy: I don't even know. I need to play that whole playlist again. After [those] stats. You ain't never seen that.
Sarina: That was amazing. Six tackles, a sack, and an interception.
Troy:  And three PDUs. That was my best game.