Each week during the season, we interview a different Rams player to find out about their lives on the field as well as off of it. Team Reporter, Sarina Morales, asks the questions fans want to know, in a fun and conversational interview. This week, tight end, Tyler Higbee spoke to Sarina about what it takes to play his position, his favorite comedians and slappin' the bass.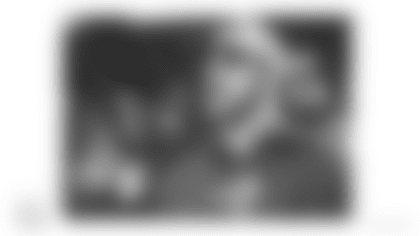 Sarina: Where'd you get your sense of humor from?
Tyler: Probably my mom. My dad's pretty funny too. But my mom's funny. My mom's funny, funny.
Sarina: What's the best comedy of all-time then?
Tyler: Best comedy of all-time? Movies?
Sarina: Like a movie or a stand up?
Tyler: I don't think you can label one best comedy of all-time. I think each comedy has its own window…
Sarina: So a Classic comedy?
Tyler: Classic comedy. I'll give you a couple of my favorite comedians.
Sarina: Okay, that's good.
Tyler: Dave Chappelle, Kat Williams in his prime. Bernie Mac. Love Bernie. You go back to guys like Adam Sandler, Jim Carrey. Saturday Night Live. That kind of group, the David Spade, Chris Farley. That kind of group.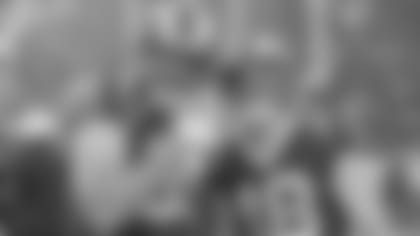 Sarina: What'd you eat for breakfast on game day?
Tyler: I had third 13 to 17 green beans, about two and a half scoops of rice and then some chicken and a little bit of a steak. As a pregame, I'll do the same thing every pregame meal.
Sarina: Why the 13 to 17 [green beans], that's so specific?
Tyler: I don't know, that's just what it looks like in one scoopy thing.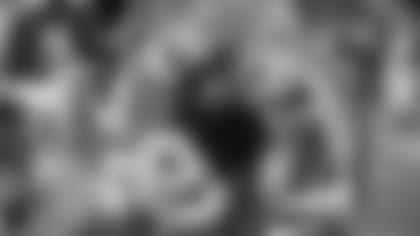 Sarina: When did football start clicking for you? When the game got slower? Is there a moment for you?
Tyler: No, I don't know. I've always enjoyed playing football. I played high school football in Florida, it's the best high school football in the nation. But, I went to the next level. I was playing with a lot of those guys that I was playing with week in and week out in high school. I don't know if there was a point where it just clicked. Always enjoyed the game. I'm an athlete.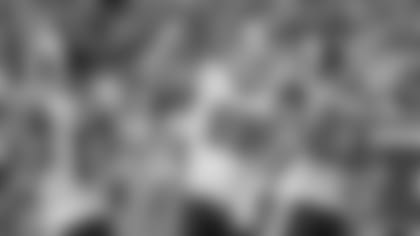 5: Tight ends do a little of everything
Sarina: What do you think of the correlation of being bigger and having good hands? Tight ends are obviously asked to do a lot in this offense.
Tyler: As a tight end you have to be able to do everything. Essentially, any and everything as far as offensive side of the ball. When people ask that don't know football, I just tell them I'm in between a big guy and a little guy. I do a bit of blocking, a bit of receiving. It's kind of a bit of everything.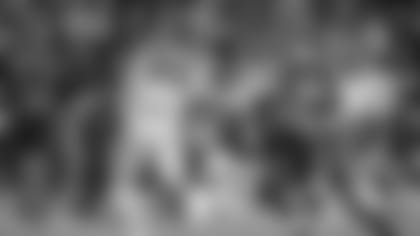 Sarina: You do a lot with Special Olympics? Why does that call your name versus another [organization]?
Tyler: I was fortunate in college to major in education. So, I was fortunate to get out in schools and meet some young kids. I've always loved working with kids. Working with special needs, it holds a place in my heart that I enjoy. I'm actually pen pals with a class back in Bowling Green. I still talk to them. I've got a message from them right now. They're always sending me videos and stuff. They always watch highlights from the game and critique me and the team on how it went.
Sarina: What did they say about your last game [against the Cardinals]?
Tyler: They were stoked. But, the Ravens game they told me I need to work a little harder. So. (laughs)
Sarina: That's cool that you have pen pals.
Tyler: Yeah, it's cool. I try to get out as much as I can and it's cool just helping. Get opportunities to be included in everything. And, in sports, especially with me having the background in [education], kind of being able to tie both into to it. That's why I like working with Special Olympics.
7: Getting a band together
Sarina: If there was a boy band for the tight ends, what would the band be? Who would play what instrument? Who's the lead singer?
Tyler: Lead singer has to be a rock star G. [Gerald Everett] is going to be, he's taking us to the promised land. I'm going to be on the base. I got Johnny [Mundt] on the lead guitar. I've got Ethan [Wolf] on the drums and I got Kendall [Blanton] as a backup dancer
Johnny: Kendall's on the keyboard.
Tyler: Oh yeah, put Kendall on the keys.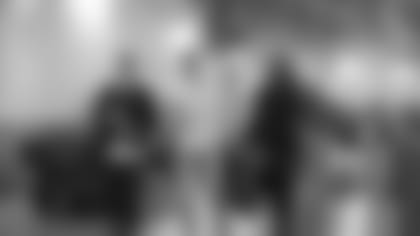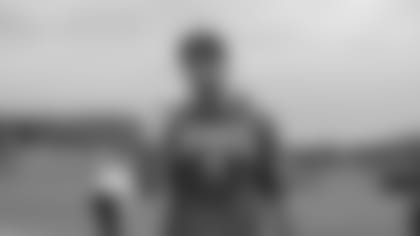 Sarina: What's your pet peeve?
Tyler: People burping and blowing it in my face. Even if they just burp and I smell it. If you were to sit here and burp, and the breeze blew it and it rolled up under my nose, we might have a problem.
Sarina: [Rob Gronkowski's] Super Bowl party. Do all the tight ends in the league get invited to that? How does that work?
Tyler: It should be. I think we'd have a great time. I haven't got my invitation, but hopefully this finds him. Tell him what I'm looking for. If we aren't playing in [the game] ourselves.