Everybody loves talking Madden ratings.
It seems like every year when the initial ratings come out, there's some debate on Twitter about who's too low, who's too high, who's going to get better — you know the drill.
This year was no exception, as the Twitterverse exploded on Monday morning.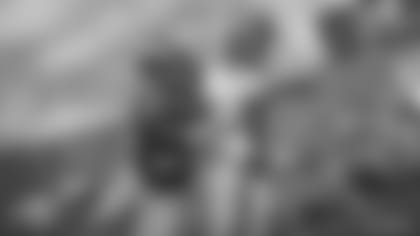 We already knew Rams defensive tackle Aaron Donald is one of four players with a "perfect" 99 rating — well earned for a player who just set a record for interior linemen with 20.5 sacks.
But what about everyone else? Let's take a look at the big picture of the Rams' player ratings for Madden 2020.
— Overall, the Rams are tied with the Chiefs and Texans for the most players leading a position group (three). L.A. has the top running back in Todd Gurley (97 overall), and top punter in Johnny Hekker (86).
Donald is technically a defensive tackle with the Rams, and is considered as such throughout the league. But in Madden, he's a right end because that's the spot where three techniques play in Los Angeles' base 3-4 defensive scheme.
So, that's where the Rams have their three — right end, running back, and punter. The Chiefs have the top quarterback (Patrick Mahomes), top tight end (Travis Kelce), and top right tackle (Mitchell Schwartz). Houston has the top wide receiver (DeAndre Hopkins), top left end (J.J. Watt), and top right outside linebacker (Jadeveon Clowney).
— Los Angeles' six highest-rated players are Donald, Gurley, left tackle Andrew Whitworth (93), cornerback Aqib Talib (87), wide receiver Robert Woods (87), and wide receiver Brandin Cooks (87).
— Whitworth is the No. 4 left tackle in the game with his rating, behind Green Bay's David Bakhtiari, Washington's Trent Williams, and Dallas' Tyron Smith.
— The Rams are the only team with three wide receivers who will start out with at least an 84 overall rating. Third-year wideout Cooper Kupp is clearly the third member of that group, at 84 overall.
— At 83 overall, quarterback Jared Goff is No. 11 at his position. His overall rating is tied with Cleveland's Baker Mayfield and is just above Philadelphia's Carson Wentz and Houston's Deshaun Watson, who are both rated at 82.
— Strong safety John Johnson is No. 8 in the initial ratings (85). There's definitely a chance he'll move up that board throughout the course of the season.
— Perhaps ironically, Samson Ebukam is the Rams' highest-rated outside linebacker (80). Clay Matthews (78) and Dante Fowler (77) are lower on the list. Matthews and Fowler, however, are the expected starters heading into 2019.
— Finally if there's maybe an area for concern when you first put the disk in, it's on the interior of the offensive line. With little playing experience, the likely starters at left guard and center — Joseph Noteboom and Brian Allen, respectively — are rated at 65 and 62 overall. Fortunately, the games played in real life aren't really a reflection of Madden's system and run game coordinator/offensive line coach Aaron Kromer should have Noteboom and Allen ready to play at a high level come September.
Madden 2020 will be released on Aug. 2.