It's Friday, July 19 and we've officially reached the penultimate Countdown to Camp. And in this edition, we're talking the position group that houses arguably the best player in the league.
Newcomers: Greg Gaines, Bryant Jones, Marquise Copeland, Boogie Roberts
If you're breaking down the Rams defensive line, you have to start with defensive tackle Aaron Donald.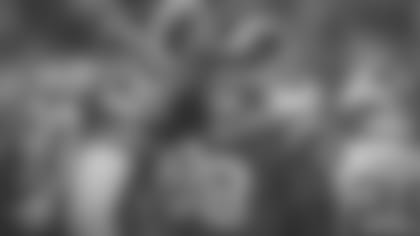 The 28-year-old Pitt product has dominated the league since entering it in 2014, and has now become just one of three players to ever win back-to-back AP Defensive Player of the Year awards. Donald recorded 20.5 sacks in his record-setting 2018, setting a new single-season franchise sack record, along with a league record for an interior lineman. Donald also had a league-leading 25 tackles for loss and 41 quarterback hits.
One might say Donald is well worth the lucrative six-year extension he signed last August.
After the departure of offensive lineman Rodger Saffold in free agency, defensive lineman Michael Brockers is now the second-longest tenured Ram — behind only long snapper Jake McQuaide. While Brockers started out playing nose tackle in coordinator Wade Phillips' 3-4 scheme, he's been playing five-technique for the vast majority of the last two seasons. But over the course of the offseason, the Rams touted Brockers' positional flexibility — so there's a possibility he could be playing nose in certain situations or packages in 2019.
At nose tackle, it appears there will be a competition between 2018 sixth-round pick Sebastian Joseph-Day and 2019 fourth-round pick Greg Gaines. Joesph-Day was on the Rams' roster throughout last season, but was never a part of the 46-man gameday roster. He was working with the first-team defense throughout the offseason program, and Phillips was complimentary of his performance.
Gaines is a pure nose tackle — someone who could come in and compete right away at the position. As is well known, Los Angeles finished at No. 31 in run defense during the regular season. Gaines is someone who can help improve that ranking in 2019. And even if he's not a starter, Gaines could be in the rotation on the defensive line.
Elsewhere on the defensive line, John Franklin-Myers recorded 2.0 sacks as a rookie in 2018, and had another sack in Super Bowl LIII. He earned the Rams' team rookie of the year award for his performance.
Morgan Fox has returned to the DL after spending time as an outside linebacker during the offseason program — before suffering a season-ending knee injury during Phase II. Fox has been working as a 3-4 defensive end this year, and said that's where he feels most at home. Recording 2.5 sacks in 2017, Fox should be a significant part of the defensive rotation in the coming year.
Heading into his third season, Tanzel Smart also has a chance to factor in on Los Angeles' defensive line rotation. He didn't play much in his sophomore campaign with the Rams, but did start four games as a rookie.
The Rams also signed Bryant Jones, Marquise Copeland, And Boogie Roberts as undrafted free agents.
PREVIOUSLY ON COUNTDOWN TO CAMP
On Monday, we'll conclude our Countdown to Camp series with