Each weekday, theRams.com will be taking a look around the internet for the top Rams headlines of the day. Here's a look at what's out there for Tuesday August 7th about your Los Angeles Rams:
Bleacher Report released its first NFL power rankings of 2018 on Tuesday. The rankings are created by analysts Brad Gagnon, Brent Sobleski and Gary Davenport. In the first edition of power rankings, the team of analysts have the Rams tied for second with the 2017 Super Bowl Champion Philadelphia Eagles.
Here is what Davenport said about the Rams:
You may not have heard, but the Rams were a bit busy in the offseason.
Fresh off the NFC West title in 2017, the Rams loaded up on veteran stars and are a trendy Super Bowl pick in many circles. Sobleski, who was one of two writers to slot the Rams second, is on board with the idea that Los Angeles is as good as any team in the NFC.
"The great philosopher Ric Flair often said, 'To be the man, you gotta beat the man,'" Sobleski said. "However, the Eagles aren't necessarily the NFC's best or even second-best squad. The Rams, in particular, have done as much, if not more, than any team to earn Super Bowl contender status. Ndamukong Suh, Marcus Peters, Aqib Talib and Brandin Cooks will make Los Angeles even better than last year, when it finished 11-5."
The Rams look like a dangerous team, combining a high-octane offense and a stifling defense.
If all their high-maintenance vets can get along and keep their eyes on the prize, look out.
Gregg Rosenthal of NFL.com put out his list of 'NFL Training Camp Winners and Losers' on Monday. Rams' defensive tackle Ndamukong Suh's name was mentioned in Rosenthal's 'losers' category, but not for why you might think.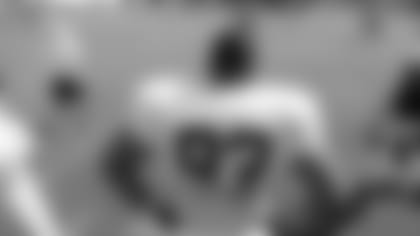 Rosenthal comically listed Cardinals' quarterback 'Sam Bradford's well-being' as a loser in training camp, just after Suh confessed to media member how driven he is to sack Bradford.
Asked if he talks a little extra trash to the man taken one spot ahead of him in the 2010 NFL Draft -- a slight the No. 2 overall pick has not forgotten -- Suh responded, "I'm not much of a talker, but I'll definitely try to hit him[Bradford] as hard as I can."
All of this was said with a smile on Suh's face. He appears remarkably calm and focused, relishing the chance to join a division champion where he's not the team leader or focus of the media. The Ramsboast incredible depth on defense, especially in the secondary, where they love the contributions that cornerbacks Troy Hill and Nickell Robey-Coleman are making each day. After forcing defensive coordinator Wade Phillips to work with pieces that didn't necessarily fit his defense a year ago, general manager Les Snead stocked the roster with guys Phillips craved. Starting with Suh.
Suh, 6-foot-4 and 307 pounds, has recorded 51.5 sacks in this eight-year NFL career.
Pro Football Focus ranked all 32 NFL quarterbacks on Monday. Rams' QB Jared Goff is slotted in the middle of the pack at No. 18.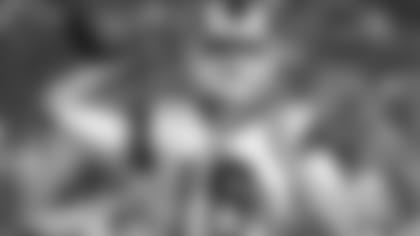 18. JARED GOFF, LOS ANGELES RAMS
2017 overall grade, rank: 75.6 (15th)
It was quite the turnaround for Goff last season, improving from a 42.9 overall grade as a rookie to 2016 to a 15th-ranked 75.6 grade in 2017. There's still plenty of room for improvement as Goff's 98.5 passer rating (including the playoffs) was inflated due to his playmakers and a favorable scheme, but he also improved to rank 12th in big-time throw percentage and 13th at avoiding turnover-worthy plays.