Defensive tackle Aaron Donald signed a record-breaking contract with the Rams last August, before posting his best season yet in 2018, leading the league in tackles for loss (25), quarterback hits (41), recording 20.5 sacks — the NFL record for most sacks by an interior lineman, as well as the Rams franchise single-season record for sacks.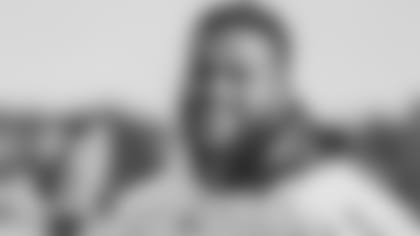 Donald's hard work has paid off personally, professionally on the field, and now off the field, and will for years to come back at his alma mater, the University of Pittsburgh. After his career-season and second-straight AP Defensive Player of the Year recognition, Donald made a seven-figure donation to the Pitt Football Championship Fund — the largest ever by a Pitt football letterman — the university announced on Friday.
As thanks for the 27-year-old's generous gift to the Championship Fund, which "serves the program in key areas as facility improvement, recruiting, technology and student-athlete development,"the ground floor of Pitt's Duratz Athletic Complex will be renamed the "Aaron Donald Football Performance Center."
"Aaron's favorite saying is 'Hard work pays off,' and his incredible success is certainly a testament to that motto," Director of Athletics Heather Lyke said in a statement. "The wonderful thing about Aaron is how he shares his success with others."
Donald, who frequently returns to the campus to train in the offseason, will now share the facility that dons his name with the futures of Pitt football.
"My experience as a Panther is something that influences my life every day and I want to pay that forward," Donald said in a statement. "I believe in what Coach Narduzzi is building at Pitt and this was an opportunity for me to make a difference for our current and future players. Pitt will always be my school and I'm honored to be able to support the Blue and Gold."
As a senior at Pitt, Donald led the country with 28.5 tackles for loss and added 11 sacks, four forced fumbles and a blocked extra point. He became a unanimous first team All-American and the winner of the Bronko Nagurski Trophy and Chuck Bednarik Award among others, making him one of the most decorated players in school history.