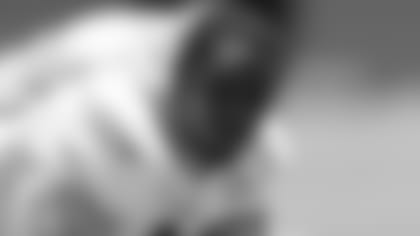 The Rams were dealt unfortunate injury news to start the fifth day of training camp, as defensive lineman Dominique Easley has suffered a season-ending knee injury.
"We received word that it is going to be an injury that's going to require surgery, and he's going to be out for an extended period of time," head coach Sean McVay told therams.com just after Wednesday's walk-thru. "But he's a guy that's done all the things we've asked of him. And we love Dominique. We're going to embrace him."
This is, unfortunately, not Easley's first season-ending knee injury. He tore the ACL in both is right and left knee while playing his college ball at Florida. Easley also finished both of his first two NFL seasons with New England on the club's injured reserve.
The injury appeared to occur during an 11-on-11 drill during Tuesday's practice — the first of the season in pads. Easley was seen unable to put weight on his left leg before being carted off the field for more examination.
Easley represents a significant loss for the Rams' defense, as he was projected to be a starter at the beginning of camp. The defensive lineman was productive in a rotational role for Los Angeles last season, recording 3.5 sacks, 50 total tackles, 21 quarterback pressures, and eight quarterback hits, according to the Rams' coaches stats.
"It certainly is a big loss for us because he was doing a lot of great things — really counting on him," McVay said. "But it's going to open up the opportunity for some other guys to step up, and we accept that and expect that."
So who will the Rams look to in order to fill the void? McVay sounded like there will be a lot of competition between the inside pass rushers.
"You see guys like Ethan Westbrooks. I think it's going to make Michael Brockers that much more important not only in base, but in some of those sub packages that we're running. You look at a guy like Tanzel Smart. I think it opens up the door for Louis Trinca-Pasat — a lot of guys that have done some good things," McVay said. "But now they'll get an opportunity to compete with some of our guys that we're expecting to start, and we'll see how they do."
As Easley goes through his rehab process, McVay said the organization will be there to help him.
"Love him," McVay said. "We're going to embrace him, and then we're going to go through this with him together."
McVay is expected to further address Easley at his press conference following Wednesday's practice.