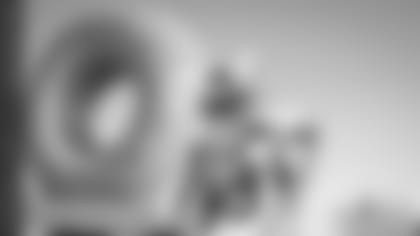 You may have noticed Rams fans are never short of headgear— watermelons and sombreros to name a few.
Well, Joe Ramirez introduced the hard hat with horns to the Rams family.
"I invented the blue hard hat with the yellow or white horns, and I enjoy wearing them at every game, whether at home or away."
And among Rams fans, Ramirez with his hard hat is known as the Silver Fox – his twitter handle @JoeSilverFoxRamirez is all the confirmation you need.
Adding the horns to the hard hat pays patronage to how he began to cheer on the Rams in the first place.
"I liked football since I was in grammar school. And the Rams were the team that was here, so I decided to support them. Primarily because I fell in love with the horns."
And that love was passed down to his daughters.
"I fell in love with the horns."
"When my daughter got married, we danced the father daughter dance in the Rams hardhat helmet with horns and it was featured on all the local news channels and the Rams social media."
Gamedays are spent with his daughters, grandchildren and the SoCal Rams Booster Club, which have come together to show him what it means to be a Rams fan.
"Having pride in rooting for the Rams every game they play. The tailgates where I've met Ram fans from the whole country. Traveling to other cities to support the Rams and watch them play. And enjoying the games with my daughters, grandkids and family."
While Ramirez enjoys traveling to other cities to cheer on the Rams, there is only one place he wants to call their home.
And that is why he became one of the original members of Bring Back the Los Angeles Rams. He joined back when the Rams were still in St. Louis, but heard there was a chance they may return to their true home.
"I wanted to let people in SoCal and the NFL (know) that Rams still had a big following here in LA!"
After displaying his fanhood, and pushing for progress, the NFL finally voted to bring his team back where it belonged.
"Once i heard the Commissioner said the NFL voted to let the Rams return to the market, tears started falling."
He celebrated in Hollywood Park with other members of Bring Back the Los Angeles Rams, and felt a sense of accomplishment.
"The team that i grew up watching since I was 8 years old is back where they belong."
That means Ramirez and his family could enjoy Rams games from right at home, something that meant the world to him and his family.
"It took us 8 years and we finally achieved our dream."
"We finally achieved our dream."