The Rams return home on Sunday for the first time in over a month for an NFC showdown against the Green Bay Packers.
L.A. hosts quarterback Aaron Rodgers and the Packers coming off a perfect three-straight weeks on the road — during which the Rams outscored its opponents 95-61 and was particularly strong on the ground, rushing for an average of 190 yards per game. L.A.'s defense will also enter Week 8 with a bit of momentum. Last Sunday against the 49ers, the Rams defense forced four turnovers and recorded seven sacks — allowing just 228 total yards.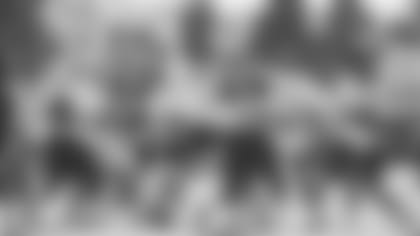 Green Bay (3-2-1) will enter the L.A. Coliseum coming off its Week 7 bye, with both wide receivers Randall Cobb and Geronimo Allison expected to return after missing time to injuries. Despite battling early injuries, the Packers boast a winning record through six games. Green Bay handled the Bills in Week 4 22-0, but have otherwise reached the win column thanks to game-winning drives by Rodgers against the Bears in Week 1 and against the 49ers in Week 6.
Rodgers has once again been the difference maker on offense in northeast Wisconsin in 2018. The two-time MVP and Super Bowl Champion has thrown for 1,997 yards, with 12 touchdowns and just 1 interception through six games this season. Rodgers sprained his left knee during Week 1's opener against the Bears and is expected to join his receivers in a healthier Packers attack against the Rams.
"Unfortunately for us, he got a week to rest, so he should be pretty close to full speed is what we're hearing," defensive coordinator Wade Phillips said on Thursday. "The great ones, you try to slow them down. Certainly, you don't shut them out, but we've got to play really good pass defense, got to have a rush and all the things it takes."
Rodgers will be joined by a trio of veteran targets in tight end Jimmy Graham, and wide receivers Randall Cobb and Davante Adams. Adams has been Rodgers' go-to option in 2018, with 557 yards receiving and six touchdown receptions through six games.
Phillips and members of the Rams defense alike are well aware of Rodgers' unique ability to create plays outside of the pocket. This week, Phillips called Rodgers one of the best off-schedule quarterbacks of all time, and outlined what needs to happen to prevent Rodgers from being Rodgers.
"They do a great job with their receivers in that, if it is off schedule, if they're not throwing it on time, that they keep running their routes and then we've got to keep coverages. We call it 'plaster' … if you're in zone or man, you've got to get close to the guy you have and stay with him the whole time."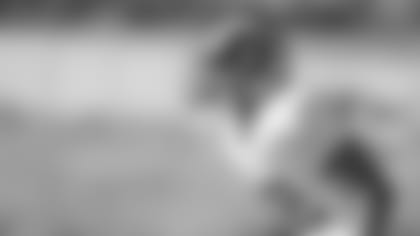 Joining the Rams as one of the league's top-three teams in passing yards per game (317), the Packers have not relied heavily on running the ball this season. The Packers have scored just two touchdowns on the ground in 2018, and running backs Jamaal Williams and Aaron Jones combine for 412 yards rushing through six games. Rodgers is Green Bay's third-best rusher, with 111 yards on 17 carries.
L.A.'s rookie defensive end John Franklin-Myers said it's "a dream" to go against a quarterback like Rodgers, who he's watched all his life — but preparing to play him has been a different experience.
"[W]hen you get a chance to actually study the film — and you see it on Sundays — but now that you get to actually study the film, you realize how good he really is."
On the opposite sideline, the Rams have leaned heavily on its run game — going to running back Todd Gurley for just about everything in 2018. L.A. averages a league-best 153.1 yards per game on the ground, and are led by Gurley — who is currently riding a 10-game streak of scoring at least one touchdown, dating back to last season's Week 14 game against the Eagles.
Gurley, who is also on-pace to break former Chargers running back Ladainian Tomlinson's NFL single-season touchdown record, isn't the only Ram putting up a career numbers in 2018. 
Quarterback Jared Goff has thrown for 2130 yards and 14 touchdowns through seven games and is currently completing 69 percent of his passes in his second year under McVay.
Earlier this week, head coach Sean McVay spoke about what improvements he's seen from Goff midway through year three.
"Well, I just think the ownership," McVay said. "Enabling us to do a lot more things than — I wouldn't say what we did last year, but we are able to do a little bit more just because our whole offense's understanding. But, it starts with his ability to command and control it."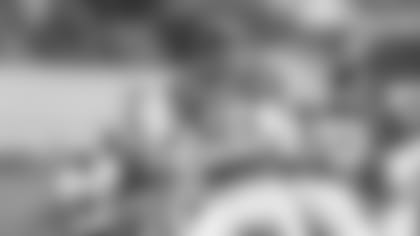 McVay also noted Goff's improved accuracy and ability to put receivers in good spots to gain yards after the catch. The former Cal Golden Bear has completed at least 75 percent of his passes in four different games this season, and his leading receivers — Robert Woods, Brandin Cooks, and Cooper Kupp — are averaging 6.4 yards after the catch.
McVay and the Rams offense once again expect to be without Kupp against the Packers. Kupp sprained his knee against the Broncos in Week 6 and was deemed "doubtful" by McVay early in the week.
The Packers roll out one of the NFL's best defenses, especially against the pass. Green Bay is limiting its opponents to just 211.8 passing yards per game in 2018, and veteran safety Ha Ha Clinton-Dix leads the way in the Packers secondary with three interceptions.
Green Bay is also a top-10 team in sacks this season, racking up 21.0 sacks by 11 different players. Linebacker Blake Martinez leads the Packer pass rush with 3.0 sacks and six tackles for loss this season.
"They're good," Goff simply stated when asked about the Packers defense. "It'll be a good challenge for us. They're good up front and good in the secondary, good at linebacker and do a lot of different things that can present challenges for us. We're excited. It'll be a good one."
"They've got great players," Gurley agreed. "It's a good defense and it's a winning team and a winning program. Those guys know how to compete and play hard."
Gurley's career-high prior to his Week 6 performance this season came against the Packers defense in 2015. In the teams' last meeting, Gurley ran for 159 yards on 30 carries, but did not score a touchdown.
The Rams defense also had some success against the Packers in Week 5 back in 2015. Defensive tackle Michael Brockers recorded one of two sacks of Rodgers in that game. The Rams defense also forced two interceptions and a fumble against Rodgers.
Rodgers will face Brockers once again in his 14th season, but this time Brockers is joined by his All-Pro supporting cast in L.A.'s defense — which includes former NFC North competitor, defensive tackle Ndamukong Suh. Suh has 4.5 sacks against the Packers in his career — 2.5 of them came against Rodgers.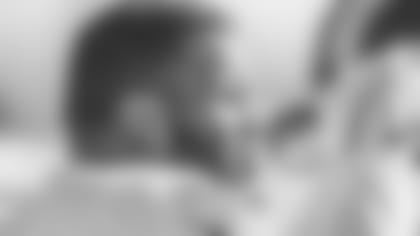 The Rams defense enters Week 8 hot, coming off a relentless performance against the 49ers in Santa Clara, which featured seven sacks — four of them by defensive tackle Aaron Donald — four takeaways, and a 29-point victory against a divisional rival.
"[I] still got room for improvement, we all have room for improvement," Donald said after his four-sack performance. "We just got to keep getting better and stay hungry and keep this roll on because being 7-0 feels good, but we have to stay hungry."
Donald and his Rams aren't the only ones trying to maintain a perfect record on Sunday. Rodgers, who has dominated the narrative surrounding the Rams in preparation for Week 8, is undefeated (4-0) in his career against the franchise.
Rodgers' occupancy in the minds of many of the young and undefeated Rams was perhaps best-demonstrated by Goff's comments when he was asked if results against the Packers in Week 8 could define what's been a dream season for his team so far.
Goff's response began in typical confident fashion, saying next week [Week 8] is no different than any other game. The 24-year-old signal-caller then clarified, saying "other than No. 12 being on the opposite sideline."
"Anytime there's going to be Aaron Rodgers on the other side of the field, it's always tough, and being the player that he is…," Goff said.
"It's going to be a fun one."