Aaron Donald set a franchise record for sacks by a defensive tackle, taking down QB Russell Wilson twice in the first half. Here are a few more notes from the game's first 30 minutes, as L.A. leads Seattle 17-14.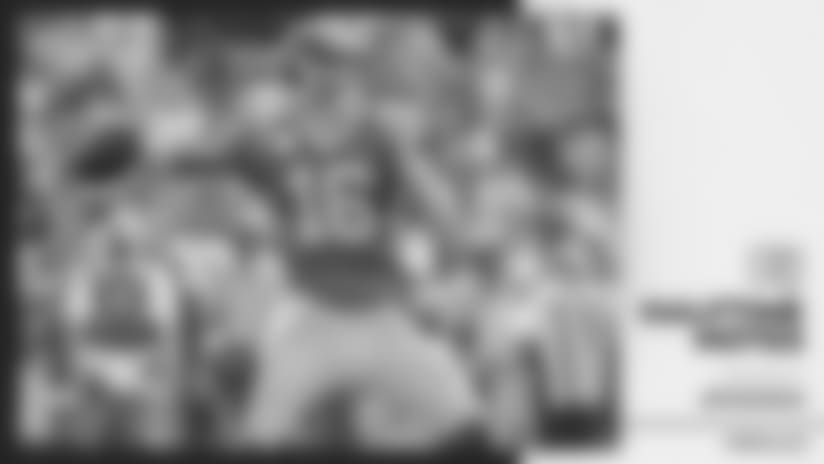 After the Rams allowed a Seahawks touchdown on the opening possession — with the help of a pair of personal foul penalties — the offense got to work with a strong, 10-play response drive to tie the game. 
Quarterback Jared Goff connected on six of his seven passes for 65 yards to lead Los Angeles to pay dirt — with three of those passes going to tight ends. Goff hit Tyler Higbee with consecutive passes to get a first down at about midfield. And then on 2nd-and-goal at the 10, Goff hit tight end Gerald Everett in the middle of the end zone for the tight end's first touchdown of the season. 
The Rams didn't even face a third down on that drive, staying ahead of the chains on each play. 
*ISSUES WITH RUN DEFENSE *
Seattle came into Sunday's game No. 3 in the league in rushing, having accumulated at least 150 yards on the ground in each of the past five games — including a season high 190 yards rushing in the Rams' Week 5 victory. 
Though the visitors were without their starting running back Chris Carson and their starting right guard D.J. Fluker due to injury, it didn't seem to matter. The Seahawks gained 104 yards rushing on their first two drives alone, leading to 14 points. 
Rookie Rashaad Penny did the damage quickly on the second drive, taking one handoff 38 yards to the left, and then a touchdown 18 yards to the right to give Seattle a 14-7 lead. 
Wide receiver Cooper Kupp hit a milestone in his young career during the first half. He came into Sunday with 97 career receptions and recorded four in the first quarter alone to push him to 101. 
His 100th catch came on 2nd-and-7 from the L.A. 42, with Goff hitting the Eastern Washington product on the left sideline. Kupp tapped his toes in bounds to secure the completion. 
You had to figure it was coming soon, and defensive tackle Aaron Donald got it done early in the second quarter. 
With his second sack of the game, Aaron Donald set a single-season record franchise record for sacks by a defensive tackle. His 12.0 sacks in 2018 lead Los Angeles this season. 
Former Rams defensive tackle D'Marco Farr — now a member of the club's broadcast team — set the previous record with 11.5 sacks back in 1995.
Following Donald's record-setting sack, the Rams got back on the board with running back Todd Gurley's 17th touchdown of the season. 
Gurley took four carries for a total of 47 yards on the nine-play, 86-yard drive — including a 17-yard touchdown on a pitch to the left. Tackle Andrew Whitworth was out in front to lead block for No. 30 on the play. 
Of Gurley's four carries, none went for fewer than nine yards on that drive.