The Rams lead the Raiders 13-0 after two quarters of action at the L.A. Coliseum. Here are a few notes from the first 30 minutes.
Los Angeles' defense got off to a hot start on Saturday, in part thanks to a few errors by the Oakland offense.
With both teams resting their starters since they'll play Week 1, Oakland's first snap was high to quarterback Connor Cook. Cook fielded the ball and went down, with outside linebacker Ejuan Price touching Cook down for a sack.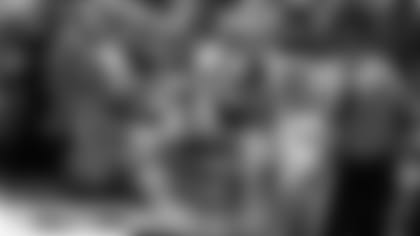 Then rookie defensive lineman John Franklin-Myers — making his preseason debut — caused some disruption on a subsequent drive. He first induced a hold by tight end Pharaoh Brown to set up 1st-and-20. Then he got in Cook's face to force a high incomplete pass on a screen to the right.
The defense held the Raiders to zero first downs and just 19 total yards in the first quarter.
TAKE IT AWAY, MAKE 'EM PAY
Linebacker Ramik Wilson put the Rams in scoring position with a defensive takeaway late in the first quarter.
On 2nd-and-10 from the Oakland 38, Cook dropped the ball in the pocket while setting up to pass. The fumble went to the defense's right, where Wilson was there to scoop up the loose ball on a dead sprint. He raced up the field 16 yards to put Los Angeles in strong scoring position at the Oakland 15.
Running back John Kelly continued his strong preseason on the ensuing offensive possession, using a pair of runs to put L.A. on the Oakland five-yard line. While it took all four downs, Kelly made it into the end zone for a two-yard touchdown. Kelly fumbled as he crossed the goal line, but recovered the loose ball to secure the score.
L.A. got another takeaway late in the first half when quarterback E.J. Manuel fumbled while trying to scramble out of the backfield. After the signal-caller inadvertently kicked the ball forward, linebacker Bryce Hager recovered the fumble and gave L.A. strong field position in Oakland territory.
HODGE WITH AN OUTSTANDING CATCH
The Rams elected to air it out midway through the second quarter and wide receiver KhaDarel Hodge ended up making an outstanding play.
Opening the drive from the Los Angeles 22, quarterback Sean Mannion dropped back and fired a deep ball down the left side to Hodge, who leapt and made a terrific catch over his defender to complete a 47-yard pass.
The play put the Rams in scoring position, and kicker Greg Zuerlein capitalized with a 42-yard field goal to give L.A. a 10-0 lead.