Los Angeles played its starters on defense for only a pair of series, but the unit looked strong in its debut. Here are some notes from the first half, as the Rams and Texans are tied, 14-14.
During the week, cornerback Marcus Peters said he'd like to see the defense come on the field, force a couple three-and-outs to get their work, and get off. That's exactly what happened on Houston's first series, with cornerback Nickell Robey-Coleman breaking up a short pass over the middle on 3rd-and-4 to force the game's first punt.
The defense let up a first down on the next series, but quickly made up for it with a takeaway. On 2nd-and-10 from the Houston 37, quarterback Deshaun Watson evaded the pocket to his right, then threw across his body deep down the left side. Watson took a hard hit from defensive lineman Ndamukong Suh as he threw, and the pass floated earrantly downfield where safety Lamarcus Joyner made a leaping interception.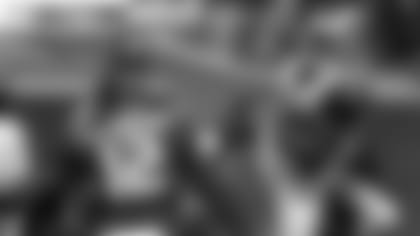 The pick was the last play of the day for the starting defense, which was off the field after just two series. It seemed like enough.
Dominique Easley — fresh of the physically unable to perform list earlier this week — was on the field for the second defensive series. For all of his career, Easley has been an interior lineman. But earlier this week, defensive coordinator Wade Phillips told the media that Easley had been working at outside linebacker.
Those practice reps turned into game snaps, with Easley working both as an outside linebacker in the Rams' base 3-4 set and as a rush defensive end when the Rams went to their nickel package.
Cornerback Sam Shields has not played in a regular-season game since 2016, sitting out the past couple years due to injury. But he's been back on the field and playing well since signing with the Rams in March.
Late in the first quarter, Shields made the impact play he's likely been looking for. On 2nd-and-8 from the Texans 15, defensive lineman Ethan Westbrooks put a hard hit on backup quarterback Brandon Weeden as he threw. Shields cut off the route, and intercepted the pass in the middle of the field — returning it down the left sideline to the Houston 13.
As Shields came off the field, his teammates sprinted down the sideline to congratulate him. It was a nice scene considering all Shields has overcome to get back to this level after the past two years.
Shields' last regular-season interception came off then-Dallas quarterback Matt Cassel on Dec. 13, 2015.