DETROIT — In a quest to clinch the NFC West with a victory, the Rams hold a 13-3 lead at halftime over the Lions. Here are a few notes from the first 30 minutes of action.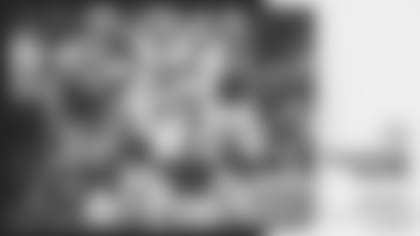 The Rams took a first-quarter lead with a 24-yard field goal by kicker Greg Zuerlein after a long drive finished without the team getting in the end zone.
Wide receiver Robert Woods caught a 19-yard pass to get the offense moving, then wide receiver Josh Reynolds added 14 more yards on a completion to the left.
Running back Todd Gurley then ripped off a 15-yard run to move the club further into opposing territory before taking a screen to the left 19 yards down to the Detroit 12.
The possession stalled from there, however, with quarterback Jared Goff firing an incompletion to Reynolds on the right side of the end zone on 3rd-and-4 from Detroit's six.
Late in the first quarter and early in the second, outside linebacker Dante Fowler made his presence felt on a pair of plays.
On 1st-and-10 at the L.A. 30, Fowler came off the edge on the offense's left, pursued quarterback Matthew Stafford through the pocket and brought him down for a sack.
Then on 3rd-and-2 from the Rams' seven, Fowler read an inside shovel pass to wide receiver Bruce Ellington and blew it up for a three-yard loss — holding the Lions to a short field goal attempt.
Matt Prater put the 28-yard attempt through the uprights to the the game at three apice.
It took the Rams a little longer than usual to get in the box, but they did with a lengthy scoring drive late in the second quarter.
After tight end Gerald Everett extended the possession with a seven-yard reception on the right side on 3rd-and-2 from the Detroit 39, L.A. got into even better scoring position with a 21-yard run to the right by Gurley.
Then on 3rd-and-7 from the Detroit eight, Goff found Woods in the end zone on a crossing route from left to right for the wide receiver's fifth touchdown of the year — matching Woods' career high. Zuerlein nailed the extra point to give the Rams a 10-3 lead, completing the 12-play, 71-yard drive.