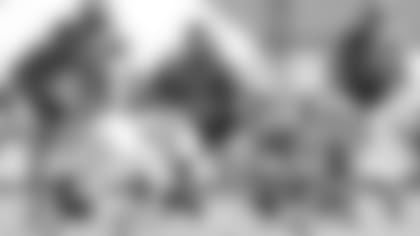 The Rams will be back in action on Sunday after taking the last couple of days off for their bye week. Los Angeles will travel to the East Coast to face off against a non-conference rival in the Giants. The game will be broadcast live on Fox with kickoff set for 10:00 a.m. Information on how you can watch or listen to the contest live can be found below:
TELEVISION:The game will be available live on Fox with play-by-play provided by Kenny Albert and color analysis from Ronde Barber. Kristina Pink will be the sideline reporter.
RADIO:Sunday's contest will be broadcast on ESPN LA English Radio on ESPN 710 AM and 100.3 The Sound FM (Play-by-play provided by: J.B. Long, Maurice Jones-Drew and D'Marco Farr). Plus, tune into 1330 AM for ESPN Deportes' live Spanish broadcast of the game with Troy Santiago and Ricardo Lopez on the call.
ONLINE: The game will not be available live via*NFL Game Pass**. However, fans will still be able to watch replays of every game and so much more! Click here to sign up for your FREE 7-day trial and start getting unprecedented access to every game, all year long.
*For domestic subscribers NFL Game Pass does not include live regular season, playoff, or Super Bowl game broadcasts, as well as some preseason games broadcasts. Access to these games is available within NFL Game Pass on an on-demand basis in the NFL Game Pass archives. International subscribers are able to watch both preseason and regular season games as they happen with certain restrictions. Audio feeds may be subject to availability. 2009-2011 games are temporarily unavailable. For a full description of features, requirement, limitations, and other information, visit our FAQ at *NFL.com/help/GamePass.*