How much does Aaron Donald need to eat a day? How does Taylor Rapp burn 10,000 calories in one workout? As the saying goes, imitation is the sincerest form of flattery. In this series, team reporter, Sarina Morales will try and imitate the unique habits and hobbies of some of your favorite Rams players. For this piece, she chewed on a toothpick like JuJu Hughes.
The toothpick lives to see another day
We know Rams' safety JuJu Hughes, not only because he's part of one of the NFL's top secondaries, but also because he chews a toothpick.
Chewing a toothpick is nothing extraordinary, but he's the first football player I've seen chew on one while running through drills on defense. He's "going on eight years" chewing toothpicks and he picked up the habit to help him stop biting his nails. So now I'm biting on toothpicks.
"The toothpick lives to see another day," Hughes saidright after he met with head coach Sean McVay and general manager Les Snead on an episode of Hard Knocks last offseason. He just walked out of their office after being asked to play on the Rams' practice squad. With the depth at the safety position in 2020, the rookie may have had to take a back seat on the field. But that didn't stop him from shinning on screen, with his bright smile and his toothpick.
I've been inspired ever since to try and see what the hype was about. So here it is. I chewed a toothpick like JuJu Hughes.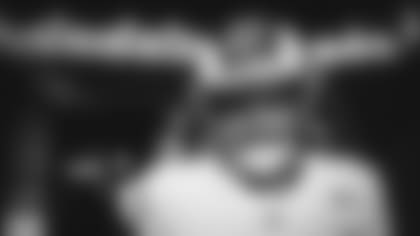 When I spoke to Hughes about his toothpick habit, he said "It's always with me." The undrafted free agent out of Fresno State says he's "So used to it at this point, there's nothing I can't do with it."
So that's how I begin this journey. I pulled out a large pack of toothpicks I had in a kitchen drawer and placed them in the corner of my work desk. I already broke a rule. Hughes says he's "Never bought a toothpick a day in his life." Pre-pandemic, Hughes got all his toothpicks at different hostess stands when he went out to eat at a restaurant. He would "grab enough to get by." I don't remember when I bought the 100 pack of unflavored wooden sticks, but someone bought them and placed them in my kitchen.
I went through five in the first hour but was committed on chewing toothpicks for at least a week. How hard could it be? Hughes says he's never swallowed or stabbed himself with one. I can confirm, I haven't swallowed a toothpick or stabbed myself with one either throughout this experience.
Take your pick: Mint or Cinnamon?
Unlike Hughes, I like some flavor. He says he's "Not a big flavor guy," but if you are going to try this, I recommend mint or cinnamon flavored ones.
At first, I found it to be more of a chore than something I would do naturally. But it helps to have them on you all the time. Keys, wallet, cellphone, mask... and toothpicks. I carried extra toothpicks everywhere I went.
"So used to it at this point, there's nothing I can't do with it." JuJu Hughes
I like toothpicks. Early on, as a rookie, I was chewing on these things. But that's not the key to winning the game. You want to keep them placed on either side of your mouth. Maybe gnawing is a better way to approach the toothpick game, because if you chew, it can get messy. They fall apart and you have to replace them more often. I went from chewing toothpicks and going through about 10-20 in one day, to just grabbing one that I kept in my mouth during meetings for at least half my day.
Hughes says he's "a pro with it" and told me he's trained to handle himself "in any situation with a toothpick." This is where I cross the line. I tried! But there were a lot of things I was unable to do with a toothpick like exercising, drinking coffee and talking on the phone.
I was unable to successfully keep a toothpick in my mouth with a mask on. To be honest, I try not to touch my face outside, so I kept the toothpick habit to mostly indoors or when I was in my car. That being said, I did attempt to run with a toothpick, that didn't last a mile. I went for a hike with a toothpick, that didn't last long either.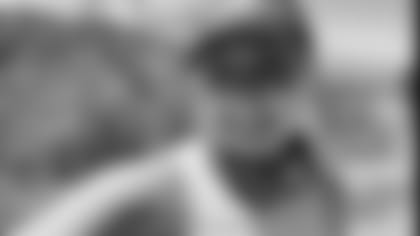 My takeaway: I've been told I look cool with a toothpick.
My new hobby is grabbing a toothpick before hopping on a zoom meeting. It's relaxing and it keeps me from snacking all day while I work from home. Will I chew on a toothpick everyday moving forward? No. But I get it. I can see how it becomes part of your day.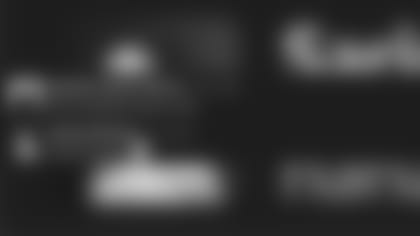 I asked fellow safety Jordan Fuller about what he thinks of his teammates' habit and he said "I think it's dope! The fact that it's always been his thing is the coolest part. It's definitely dangerous for him to play football with a toothpick in his mouth, but he's a baller. So, if it ain't broke, don't fix it if you ask me."
I agree with Fuller. Leave it to the pros. Please don't try playing football and chewing on a toothpick at the same time. You can appreciate the finesse from afar. But highly recommend a mint flavored toothpick during meetings. Also, I have been told I look cool with a toothpick.