Wide receiver Cooper Kupp does not have a Friday injury status, meaning he is expected to play in Sunday's contest against the Saints.
"It's great," head coach Sean McVay said of having Kupp back. "You're talking about a great football player who's extremely trustworthy in crunch-time situations, or really, throughout the course of the game. His knowledge, his understanding of what we're trying to get done, his ability to compete with and without the ball — he's a special player. So, getting somebody like him back who's had as much production as he's had really since he got here last year is going to be big for our offense."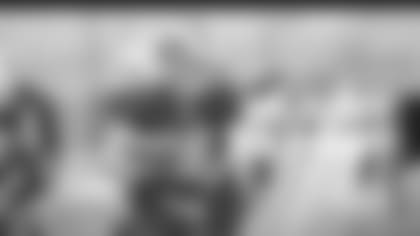 Kupp has missed the last two games since suffering a knee injury abasing the Broncos in Week 6. He said on Thursday that he's missed being on the field with his teammates and is looking forward to contributing on the field once again.
Cornerback Sam Shields did not participate in Friday's practice with an illness, and he is questionable to play on Sunday.
"Sam got sick within the last day or so, not feeling good. We're hopeful that he'll start feeling better and be ready to go, but if not, then we've got some contingency plans," McVay said.
On the other side, defensive end Marcus Davenport has been declared out with his toe injury. He is expected to miss at least a few games. Running back Alvin Kamara missed Thursday's practice with an illness, but he is expected to play.
Below is the full Friday injury status reports for both teams. If a player is not listed, he is expected to play.