Typically soft-spoken and understated, this was as adamant as I'd ever seen or heard Cooper Kupp.
In an interview with Sarina Morales during the offseason program, the second-year wide receiver spoke out about Rams quarterback Jared Goff. Clearly, this was a topic that had been on Kupp's mind.
"[I] continue to hear people say, you know, 'He's growing as a leader. He's developing as a leader.' I think it's time to stop that and just say it how it is: He's a leader of this team."
That grabbed my attention. Goff's leadership was something I'd been thinking about, too.
How did the first overall selection survive an 0-7 start to his NFL career without losing the trust and confidence of his locker room? And now, as a Pro Bowl quarterback, would he be elected a captain in 2018?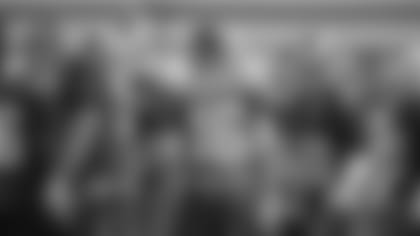 At the tail end of his debut season, after a deflating home loss to San Francisco, Goff stood at the Coliseum podium.
"I promise you guys it will get fixed," he said on December 24, 2016. "[I'll give] everything in my heart and soul to get it all fixed."
At the time, Goff had just lost a sixth consecutive start to begin his professional career. The next week, he'd drop a seventh to conclude a dreadful rookie campaign.
But by December 24, 2017, Goff had emerged as a division champion and the first player in Rams history to throw at least 25 touchdowns with single-digit interceptions.
The following week, when his team again hosted the 49ers, Goff wouldn't address the media from the Coliseum podium. He wouldn't have to. He'd made good on his promise and was taking Week 17 off to prepare for the postseason.
Along the way, Goff had somehow maintained the confidence of a fledgling group of Rams that had seen him falter and earned the trust of veteran additions who would help him turn around the franchise's fortunes.
"He was young but very respectful," said center John Sullivan of his first impression of Goff upon arriving in Los Angeles via free agency. "Smart kid. Had everything put together. Good moral compass. Right from the start you get that feel when you meet him."
And true to his word, Goff gave his heart and soul to his team.
"What really won everybody over and proved it -- him to himself and to everybody else in the organization -- was just the way that everybody worked last year during the offseason program, into training camp," continued Sullivan. "I can say confidently that his performance and our performance as a team a year ago was not a fluke."
"You have to respect a guy like that," wide receiver Josh Reynolds said of Goff's resilience. "Going off on that offseason and working out like he did to be able to improve his second year. That's what everyone says. It's that jump from the first year to the second year that's the biggest jump in somebody's career."
The adage certainly proved true in Goff's case. (And having the 2017 NFL Coach of the Year in his ear didn't hurt, either.)
More comfortable and capable on the field, suddenly Goff's personality has emerged off of it, going into Year Three.
"We were actually just talking about this in the locker room," said outside linebacker Matt Longacre, following a training camp session in early August, "how much he's grown since Day One when he was the shy, quiet guy."
His alter ego, Dreaj Foge, paid a visit to Venture College.
"Jared's funny?" running back Todd Gurley deadpanned, momentarily unwilling to acknowledge his quarterback's sense of humor and instead crediting the endorser for the spoof. "That wasn't him; that was Red Bull."
There have been thoughtfully tailored gifts.
"We thought we had custom suits coming," said Sullivan when the offensive line had their measurements taken at Goff's instruction. "We were all fired up."
And there have been appearances at local Little League games.
"He's never forgotten that at the end of the day, it's about teammates and about relationships," observed left tackle Andrew Whitworth. "It's really a big part of what he does. You see him trying to show up at a lot of guys' stuff. He's asking me when my kids play so he can be there. You know, it's about being a person first and foremost, and that doesn't involve just being at home on your own. It means in your off time, you find ways to relate to your teammates."
Seemingly, that comes naturally to the Rams quarterback, who hasn't been affected by a season of success.
"Always consistent, no matter good or bad, he's kind of always just even keeled," added tight end Tyler Higbee, Goff's friend and roommate since they entered the league together. "I think that's helped him."
As for the question of Goff's captaincy, indeed he has been voted one of six representatives for 2018 by his peers.
The Rams return two other offensive captains in the reigning Offensive Player of the Year Gurley and the aforementioned Whitworth, the senior member of the roster and a four-time Pro Bowler in his own right. Behind them, who could've argued if the longest-tenured Ram Rodger Saffold or the 33-year-old Sullivan or wide receiver Robert Woods had been elected?
Similarly, on defense, the 2018 Rams chose seventh-year lineman Michael Brockers and a Super Bowl champion in Aqib Talib, who's been a Pro Bowl corner in each of the last five campaigns. Meanwhile, two defensive tackles with Hall of Fame trajectories -- Aaron Donald and Ndamukong Suh -- will lead with their play.
Johnny Hekker represents an All-Pro special teams unit.
It's impressive how one of the youngest teams in the NFL quickly became saturated with consummate professionals.
"When you start voting for captains, and you start going, 'Holy cow… we've got 15 guys that potentially could be captain.' That's a good problem to have," says assistant head coach Joe Barry.
That's a reflection of the culture that Les Snead, McVay, and their staffs have been able to create in Los Angeles -- a culture that Goff contributes to as much as anyone.
"He was [a captain] last year," asserts Sullivan (even if Goff wasn't, in title). "I'm not going to disrespect the whole captaincy program. That's an important thing. That's an honor when guys are voted (captain) by their teammates. However…the quarterback is a leader by definition just in terms of the position, and Jared's embraced that."
And since Kupp sparked this conversation -- at least in my mind -- why not let him conclude it?
"It's time to put (the questions about leadership) away and just call it for what it is. He is a leader. Guys respect him. They want to play for him."