An Oakland native, Rams cornerback Marcus Peters remembers when Packers quarterback Aaron Rodgers was lighting it up at Cal back in 2003 and 2004.
"Yeah, A-Rod was doing his thing up there. They should've went to the 'Natty' that year, they had a squad," Peters said, referring to the Cal team of 2004 that finished No. 9 in the final AP poll. Peters rattled off a bunch of names he remembered from that team, including his cousin, Marshawn Lynch.
"They were very, very good," Peters continued. "And I've been respecting him since then. Like I said, it's A-Rod. Who doesn't respect A-Rod, you feel me?"
"He's got the ball placement, he's got the arm, he's got the competitive [nature], he's got the heart," Peters added. "And every time you're on that field for the Packers, they've got a good chance to win it."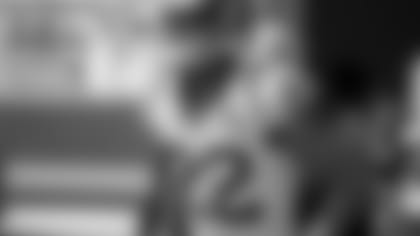 Peters has a point — Rodgers is widely regarded as one of the best quarterbacks to ever play the game for good reason. Now in his 11th year as a starter — and 14th year in the league — Rodgers is a two-time MVP who's won 97 regular-season games while completing 64.9 percent of his passes for 40,499 yards with 325 touchdowns and only 79 interceptions. His career passer rating is a whopping 103.6.
Not to mention he's put together 19 game-winning drives, including a pair so far this season.
Plus there's the unquantifiable elements — how Rodgers seemingly makes something out of nothing, extending plays with his legs and then throwing on the run.
As head coach Sean McVay said on Monday, "He's a real problem."
"He's gonna be A-Rod," Peters said of what he's expecting this week. "And he's been A-Rod since he got into this league. And he's been A-Rod since he was at Cal, you feel me? You respect his game and you love the competitor that he is. And you've got to just be on your toes."
Peters will face Rodgers for the second time in his career on Sunday. The first time didn't go so great — "They beat the —— out of us," Peters said — with the Packers defeating the Chiefs 38-28 at Lambeau Field in Week 3 of 2015. That was when Peters was a rookie. This time…
"It's going to be different. Like I say, man, we've just got to go play our football," Peters said, noting the Packers are coming off their bye week. "So he's getting his body back. They're getting Randall Cobb back. They're going to be coming in fresh, and we're going to be fresh, and we're going to be ready to play ball."