The first-ever Rams Scouting Apprenticeship began in March of 2020. The Rams hand-selected ten people of color, including two women. The series will cover each of the ten apprentices. This week, meet AJ Pearson, second year medical student at Michigan State University College of Osteopathic Medicine.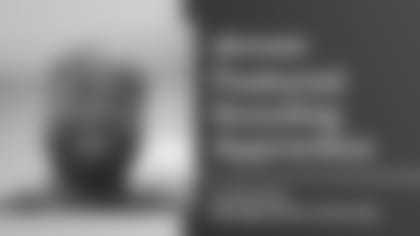 Taped to the wall opposite AJ Pearson's desk is a poster of Muhammad Ali. A poster his dad gave him when he was about five years old.
"[Ali] was my yearbook quote my senior year of high school," Pearson added. "I can't remember [the quote] now because senior year seemed like forever ago. I think it might just be that one, 'Suffer now and live the rest of your life as a champion.' I'm pretty sure that's it."
I'm pretty sure Pearson is taking that quote literally, whether he remembers it or not, as he makes his way through med school. Now, a second-year medical student at Michigan State University College of Osteopathic Medicine, Pearson is balancing classes and the Rams scouting apprenticeship. He is also the president of a psychiatry club at school.
"I'm a very tired individual," Pearson stressed. "It's been a lot this semester. It has been really difficult."
'Suffer now' rings louder than the second half of that quote. But Pearson has aspirations of setting himself up to be a champion, or in his words, become either a physical medicine rehabilitation doctor or sports psychiatrist. "It's sports and medicine. It's just like, I love it."
Pearson says sports is a lot easier to retain than medicine. He spoke to me for over 45 minutes, just breaking down his top five quarterbacks in the 2021 NFL draft. However, he is putting the majority of his time and energy into school. "I am in control of my own destiny" when it comes to medical school. Pearson feels if he focused his energy in scouting, "I lose some of that control."
He's been skeptical about fully devoting himself to sports because he says at times it feels more like "whose coattails can you ride up" than doing the actual work.
"No matter how hard you're working, if you don't know the right people, sometimes it doesn't matter. I'd rather be in an industry where everything is solely dependent on me," Pearson says.
But he still "has the itch" and wanted to be part of the apprenticeship. "I've always had such a great love for football," Pearson explained. He's played football since he was eight years old. And when this opportunity came up, he wanted to try it out because he felt like there was "a little hole" in his life.
Today he's filling up his appetite for football and feeding his hunger to help athletes in the future. His mother is a psychiatrist. His father was a police officer and a Marine. "We like to joke around that we have a very mentally tough household," said Pearson.
But what about all those athletes that don't have the same mental toughness?
"People have a lot of different anxiety and performance issues that may not be physical. I think sports psychiatrists could help these athletes through these mental things. Whether it be stuff at home, on the field, or whatever it is in life, these athletes need to do better to perform. I think that's a role I could fill up."
Which is why having a mentor like Brad Holmes, former Director of College Scouting for the Rams and current GM of the Detroit Lions, was helpful for Pearson. "It was a really good relationship. I think we shared a lot of the same thoughts. He definitely helped me," Pearson said.
For Pearson, balancing medical school and football is a no brainer. "I don't think I could get to one without the other because all the stuff I learned from football is what helped me focus and get into med school. The discipline with learning in the classroom helped me excel when learning the playbook and everything else in football. They just marry well together."
To Pearson, the "suffering" now is more related to the late-night studying and isolation he's endured this past year. His balance of preparing for three-hour exams and staying on top of the NFL draft is all in a day's work. He knows no other way.
"Don't count the days, make the days count" could be the new Ali quote he uses as inspiration until the day he can live the rest of his life as a champion.