The Matt Longacre stories are what #RamsCamp is all about.
The 26-year-old didn't play a snap of Division I football.
His mascot at Northwest Missouri State is known only to Google.
His Combine numbers weren't dazzling; they were nonexistent; he wasn't invited.
However, as a college free agent with the Rams, Longacre made it to training camp in 2015, eventually to the practice squad, and finally reached the active roster.
Now, 25 appearances into his tenure, the outside linebacker is coming off the first 5.5 sacks of his career in 2017 and is poised to earn a starting job on a Super Bowl contender.
He's not alone. Cory Littleton, slated to start at MIKE linebacker, also was an undrafted free agent, as were Ethan Westbrooks, Malcolm Brown, Sam Shields, Nickell Robey-Coleman, and others in camp with the Rams who have made significant contributions on Sundays. Their NFL opportunities were secured on summer afternoons like these, and in many cases, will be again in 2018.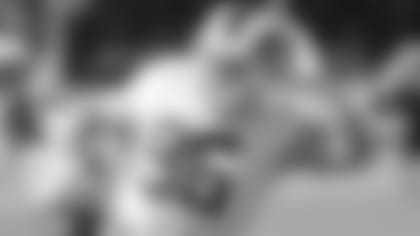 After rehabilitating a back injury that landed him on Injured Reserve last December, Longacre was back on the practice fields at UC Irvine this weekend. I caught up with him after his first day of team drills and started by asking him how he feels physically.
"Good. Two months ago, if you'd asked me that, it might've been a different answer. But these guys have worked me great. (Director of Sports Medicine and Performance) Reggie (Scott) and his staff. (Assistant Athletic Trainer) Hillary (Stepansky) is kind of the one who's been doing my rehab, and they've gotten me to this point. It's been awesome."
Now that he's back, what awaits him is the opportunity to start at one of the two vacated outside linebacker spots.
"On any team, fighting for a starting job, I mean, that's motivation enough. And then, on this team? We could be special this year. So no question, that's definitely a motivator. Free agency's another motivator. Just trying to get healthy and help this team. Really, make the team and then help it however I can."
Talking to Longacre, you can't help but sense that he hasn't lost the undrafted mindset.
"I don't think that'll ever leave me. Starting out in St. Louis, it was make the team. And then second year it was, let's make the team and see if I can help. I don't think I'll ever lose that. That's kind of the edge I think I have. I won't get complacent because I know I'll never have a job -- at least in my mind -- that's guaranteed like some of these people on the team. I fight for that every day. If you would've (told) me four year ago if I'd be four years in? I don't know if I would've believed you. A lot of it, when you're a free agent is getting the right staff to give you a chance. Luckily enough, I've been given a chance by two great coaching staffs."
Was he concerned when there was a coaching change?
"No question about that. You also hear a lot about player turnover after coaching changes. That's one of the things I remember, kind of going around the locker room before they really hired Coach (Sean) McVay and his staff. But then when I heard we had Coach Wade (Phillips), I was like, 'That is awesome! But doesn't he run a 3-4?'
I wasn't sure how I was going to fit into that. I had a really good back-and-forth with the coaches early on … talking if I was uncomfortable at (defensive) end, or do I want to be an outside linebacker? They've been great about it."
So how and why did he transition to OLB?
"A lot of it is, 'Alright we're going to start you at outside linebacker, because it's the closest to a defensive end in a 4-3.' (Defensive Quality Control) Coach Thad (Bogardus) is kind of the guy that does a lot with the WILL linebackers, and so he's helped me out immensely since Day One. If I ever had a question, he's the guy that I would go ask."
Now, it's been theorized this offseason that given the All-Pro defensive line the Rams have built, Myles Simmons and Sarina Morales could start at outside linebacker and find double-digit sacks. Not sure Myles could get to a quarterback by Monday, but nonetheless, the opportunity to exploit one-on-one matchups isn't lost on Longacre.
"Being able to play off these guys, that's the big thing with the group we have. They're so explosive and fast off the line of scrimmage, that they're kind of getting vertical and in a way cutting me off, and that allows me to wrap up when that quarterback steps up. That's the thing I'm most excited about."
That made me wonder if Longacre's experience complementing a defensive force like Donald might be part of his value to the Rams this season. Really, who else on the roster knows how to leverage the Defensive Player of the Year's tendencies first-hand? Could that be Longacre's niche on this defense?
"I do (hunt those opportunities). I did it a lot last year. I had quite a few hits, pressures and all that, off of stuff like that with Aaron (Donald). He's getting vertical so fast that he's literally cutting me off, and so I'm just wrapping off him and as quarterbacks step up because of the pressure that this front can do, it opens it up for me. So, I'm looking forward to that."
Expected to start opposite Longacre is second-year pro Samson Ebukam. There are several other contenders for snaps at outside linebacker, including newcomers Ogbonnia Okoronkwo (currently on the PUP list) and Trevon Young.