As the Rams ready for the Cowboys offensive attack led by quarterback Dak Prescott and running back Ezekiel Elliott, ninth-year Cowboys head coach Jason Garrett has his sights set on an offensive duo of his own, in search of his first Divisional-round win in four-career appearances.
Garrett is familiar with what quarterback Jared Goff and running back Todd Gurley have to offer in head coach Sean McVay's Los Angeles offense. Goff tacked up 255 yards passing and two touchdowns on the Cowboys in Week 4 of last season.
"I just think he's gotten better and better the more he's played, like really everybody, and particularly at that position," Garrett said this week. "Played at a very high level all through the year last year, but just seemed to continue to get better and better."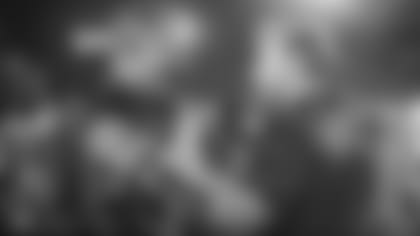 Goff left Dallas with a win last year and went on to complete 60.5 percent of his passes and throw 21 touchdowns with six interceptions to close out his second season. In 2018, Goff set a career high in both passing yards (4,688) and touchdowns (32). Other than 12 interceptions to 2017's seven picks, the numbers agree with Garrett in that the young quarterback has improved since last season's meeting.
Garrett alluded to Goff's improved decision-making ability in his third professional season.
"He does such a great job making big plays when they're available, but also being efficient and minimizing the bad play," Garrett explained. "He's just a fantastic football player."
If a loss doesn't come by air for Garrett's 11-6 Cowboys it'll be by ground and the well-rested legs of Todd Gurley. Garrett works daily with a running back of Gurley's caliber — the Rams rusher's 130.8 yards from scrimmage per game trails Elliott's average (133.4) by fewer than three yards. But Garrett sounded much like the 13 other coaches who prepared to stop the league's leader in touchdowns.
"He's a big, strong guy, he's quick, he's fast, he's explosive, he can make you miss," Garrett said. "He's a great runner with patience and acceleration and vision and everything you're looking for."
Garrett also commended Gurley as a pass catcher in the league's No. 2 offense in yards per game this season — perhaps a reaction to the back's 215 yards from scrimmage, including a 53-yard receiving touchdown in last season's game.
"They use him a lot of different ways," Garrett said. "A complete back and someone who challenges every time the ball is snapped."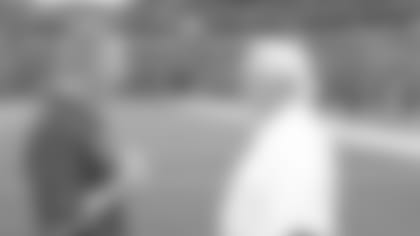 Garrett will deploy his own offensive one-two against a defense orchestrated by an old partner in defensive coordinator Wade Phillips. Garrett worked as an assistant head coach and offensive coordinator for two seasons under Phillips in Dallas before taking over the top job in 2010. On Tuesday, he gave some insight as to how the 71-year old coordinator has built his legacy.
"Typically, he does a great job creating an environment for his players to be their best," Garrett said. "If you watch the Rams defense, that's what he's done."
Phillips has moved defensive tackle Ndamukong Suh about the defensive line — best positioning the veteran to both supplement the league's leader in sacks, terrorize quarterbacks, and stop the run. The 41-year coaching veteran has made adjustments in the secondary, switching to more zone looks.
As a result, Phillips' defense has trended upward since L.A.'s Week 12 bye and Garrett has taken notice.
"They get those down guys rushing, the linebackers play fast and make a ton of plays and the back-end guys are elite," Garrett said. "They're elite cover guys and they're elite playmakers. Wade understands how to put the whole thing together, does a great job."