"He's the most impressive back I've been around and it's not even close." -HC SEAN McVAY
Head coach Sean McVay complimented his star running back on Thursday, specifically commenting on Todd Gurley's instincts and versatility.
McVay said that Gurley's ability forces his staff to come up with ways to maximize the Offensive Player of the Year's impact on games.
Gurley led the team in receptions a year ago and finished second in receiving yards.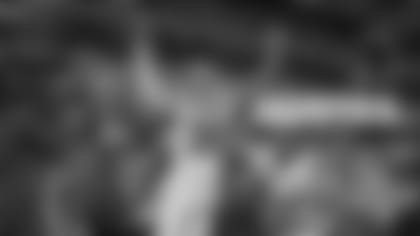 "It's cool being in his system and he has so many unique ways off getting someone the ball." -RB TODD GURLEY
Gurley returned the favor, showing appreciation for his head coach on Thursday when talking about the 19-yard push-pass sweep that led to Gurley and the Rams' first touchdown of the season.
Gurley said that McVay frequently gauges his thoughts on different plays, but Gurley typically trusts McVay and goes with the flow.
The running back finished saying that he'll "probably come in tomorrow and [McVay will] have five more plays on the board."
"So, I thought he did a heck of a job and showed that he can play. I mean, he made some plays across the field. He can really run, tackled well — the whole thing." -DC WADE PHILLIPS
Linebacker Corey Littleton made his debut as the signal-caller for the Los Angeles defense on Monday night.
Defensive coordinator applauded Littleton's performance, saying Littleton "did a heck of a job".
Littleton finished his night with 13 tackles and one interception, appearing in every defensive play for the Rams.
"He's still a great football player. They had a rough time keeping him out of there." -DC WADE PHILLIPS
Phillips weighed in on defensive tackle Aaron Donald's relatively quiet performance in Week 1. Phillips said that he shared a bit of the disappointment Donald felt about his performance, but a number of things may have contributed to his underwhelming debut.
Phillips backed up his defensive star, citing a strong Raiders o-line — anchored by Kelechi Osemele — and quarterback Derek Carr's quick release as reasons for a Donald's slow start.
Donald did bring down Carr once on Monday night, but was flagged for hitting Carr low.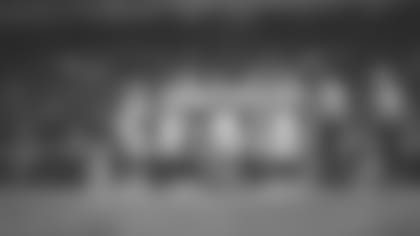 "Everything is a lot better now, I just have to keep getting myself better — pushing me, trying to push the guys around me — it'll be fine, I'll be fine too. I'll get going." -DL AARON DONALD
Donald was once again critical of his Monday-night performance on Thursday. He also admitted that he's his own toughest critic.
In a four-minute session with media, Donald mentioned getting better or improving 13 different times.
Donald tallied 11.0 sacks in 14 games last season, en route to his first AP Defensive Player of the Year award.
"They're both, I think, going to be good players for us. So, that's what you want." -DC WADE PHILLIPS
Phillips talked in-depth about his linebackers on Thursday. OLBs Matt Longacre and Dominique Easley split time on Monday. Phillips said the pair sharing time may pose a challenge to offenses.
Both Longacre (bicep) and Easley (knee) are recently returning from injury. The pair accounted for two tackles, one for a loss against Oakland.
The Rams are also utilizing rookie defensive end John Franklin-Myers in certain pass-rushing situations.
"We always talk about using all five eligibles — spreading the field, making sure that everybody has got to be accounted for." -HC SEAN McVAY
Quarterback Jared Goff did not target tight end Tyler Higbee at all in Week 1.
McVay said that Higbee's minimal action was not intentional, and that the game flow forced his tight end into more blocking scenarios. Higbee played 95 percent of snaps in Monday's contest.
Higbee averaged 2.8 targets and 1.6 receptions per game in 2017.