Following each practice, Quotes and Notes will bring you what was said, who said it, and what it means for your Los Angeles Rams.
"Mainly pass protection — I can always get better at that." -RB TODD GURLEY
Running back Todd Gurley said that protecting his quarterback has been a focus of his throughout training camp.
Picking up the blitz in practice has been challenging, according to Gurley. He mentioned both safety Marqui Christian and linebacker Cory Littleton as rushers who have been a handful in camp.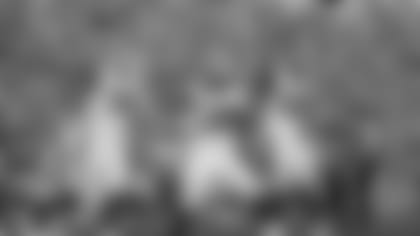 "At the end of the day, whether they know the play or not, it's one yard — so go get that one yard. We harp on it every week, but that's what separates the good from the greats, being able to get that extra yard." -RB TODD GURLEY
When asked what Gurley and the No. 1 offense in the league last season could improve in 2018, Gurley said play in the red-zone and 3rd-and-short situations.
Last season, Gurley was handed the ball on third down 28 times and 17 of those carries were with two yards or fewer to the first down marker.
Of the 17 carries with fewer than two yards to go, Gurley was successful in nine attempts, coming up short in the other eight.
McVay seemed to move away from Gurley as the first look on 3rd-and-short in the middle of last season.
"I'm kind of happy to not be playing in it, but you know it's definitely good for some guys as well, too. Some guys just like being out there to get a feel for it, but not this guy. " -RB TODD GURLEY
Finally, Gurley did not hold back on sharing his thoughts on the NFL preseason on Thursday afternoon.
Gurley expressed similar thoughts as defensive tackle Ndamukong Suh concerning the preseason this week, saying he would prefer to have "zero" preseason games.
"I'll get hit plenty this year. I'll get adjusted to it eventually." -QB JARED GOFF
Quarterback Jared Goff said getting hit in the preseason is not something that he looks for to get him up to game speed.
Despite a "maybe" from head coach Sean McVay, Goff said he expects to play on Saturday against the Texans.
Goff, who has never missed a game to injury, was sacked 25 times last season.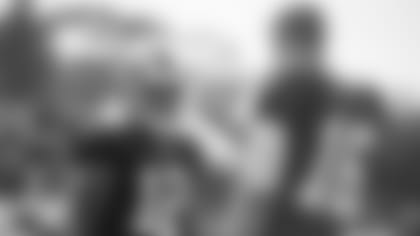 "I think some of our down-field passing stuff is something we've put a big emphasis on, something I've put a big emphasis on and something we've seen improvement in already through the offseason." -QB JARED GOFF
When Goff was asked what his offense could improve on entering 2018, QB1 said downfield passing.
In 2017, Goff finished tied for fourth with 12 completions of at least 40 yards. A few of his more notable successful deep looks include a 67-yard touchdown pass to wide receiver Sammy Watkins against the Giants, and the 94-yard touchdown pass to receiver Robert Woods against the Texans.
The Rams adding receiver Brandin Cooks to the roster could provide Goff the opportunity to go deep more successfully in 2018. Last season, Cooks caught nine Tom Brady passes for 38 yards or more, the longest reception being a 64-yard completion for a touchdown.