Sarina: You make football look so easy. What is something difficult about the game?
CJ: The consistency. You look at some of the greats like Tom Brady and Jerry Rice and other greats in this game. Playing at a high level is tough to do consistently. I prepare and work hard every day to play at that high level consistently and hopefully that works out for Sunday.
Sarina: Given you are someone who has experienced it before, fill-in the blank, The Super Bowl is…
Sarina: What can I look forward to?
CJ: The festivities are fun, of course. Working for the team, when you win, is the best feeling on earth. Celebrating with a group of guys that you've been a part of… I know it's a little different for me because I haven't been blood, sweat, and tears since April, but celebrating with a group all working towards one goal, and seeing all the families on the field… that is a special moment.
Sarina: What have you taken from football that you've applied to your life outside of it?
CJ: Discipline. The consistency. Being very detailed in everything you want to do in life. We are detailed on plays and trying to make sure we do that at a very high level. So be the best husband you can be, boyfriend you can be, the best dad you can be, the best son you can be… try and do that at a high level.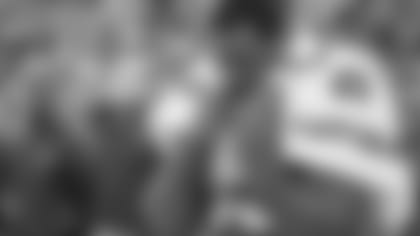 Sarina: We talk a lot about your love for comic books and characters. If you had a super power, what would it be?
CJ: Ah have you seen my Bubbles socks? (CJ pulls out his cartoon character Bubbles socks to show me he wore superhero socks to practice). I would say to be very, very observant…. Like Sherlock Holmes. Like Batman… the greatest detective.
Sarina: Being observant is something I feel you already have to some degree?
CJ: I try, I work hard at it, but not on the level that they are on. That's why it's a super power for them. It's just an on and off switch for me. (laughs)
Sarina: Why is the towel under your hat?
CJ: It's just something I've been doing since I was a rookie. There is no explanation. Just put the towel under, put the beanie on. It cools me off.
Sarina: I feel like you could sell these as hats.
Sarina: Does anyone else do that?
CJ: I haven't seen anyone else.
Sarina: Look, there is your superhero costume then!
CJ: That's my cape. (laughs)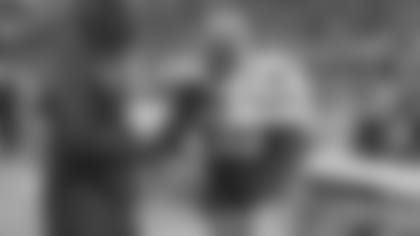 Sarina: What is the thing that stands out to you most about your hometown?
CJ: I love my hometown. I love the support. I never forgot where I came from, and how I grew up. I try to have people feel my story when I play the game. I grew up rough. Single parent home. Inner city kid. What I love about my city is the love and the ghettoness that they put out. They are just real with themselves and it's something I try to support and keep by my back at all times.
Sarina: Do you feel like you need to represent your hometown (Vallejo, CA) because you made it so far?
CJ: I think so. It's good to represent where I am from and my actual neighborhood. But the city where I am from, it's not just myself, but C.C. Sabathia (MLB pitcher), Jeff Gordon (Nascar driver), E-40 (rapper), and Mac Dre (rapper), Thomas DeCoud who played in the league back in the day, and Jahvid Best (Olympian)… there is just a lot that came out of our city, so our little small town, I try and let it be known and I'm the next man up.
Sarina: Something else you love is sushi. Why do you love it so much?
CJ: It's just fire. Fire. I eat all sushi. Eel, Octopus… I eat it all. I really enjoy it. I could go on a sushi diet. It might work out for me too.
Sarina: Alright, so sushi forever or tacos?
CJ: See now that is tough. Tacos are my favorite food of all time. I love me some tacos. So maybe I would make a sushi taco.
When you beat the Patriots you've earned it.
Sarina: Genius. Speaking of… Why is Sean McVay a genius?
CJ: I think he loves the game of football. It's vague, but I think he really just loves the game. I won't say there's not a lot of people (that love it), but not a lot of people that enjoys it like he does. I think he loves everything about the game -- the ups, the downs, the preparation, the hardships. And I love the game just as much, so I see that in our leader and that's great. I love the game. He's passionate. I'm passionate. It rubs off.
Sarina: What's your favorite part of the game?
CJ: The prep. Watching film. I like Monday through Saturday. Sundays are fun though! But I like the Monday through Saturday. I like waking up early and really trying to study and break down an opponent and understand tendencies. That is my favorite part of the game.
Sarina: Funny, it's sort of like being a detective. Like, oh this guy is going to do this and I am going to catch him!
CJ: That's the plan. Catch him before he does it. There is nothing better when you go out there and go, 'I've seen this. I've seen this on Wednesday at 6:30 in the morning. This is coming and I can stop it now.'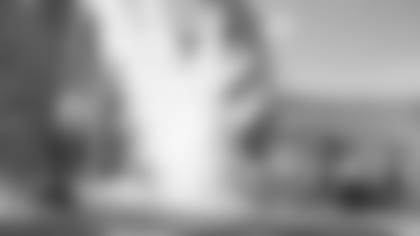 Sarina: Back to comic books because you reminded me of being a detective. What do you love about comics so much?
CJ: They take you to a different universe. Makes you be a kid again. I think there's some lessons in comic books like helping people and motivating people trying to be a leader. I think there are hidden messages in certain superheros depending on who you read and I enjoy comics a lot.
Sarina: Final thoughts before the game against the Patriots.
CJ: It's going to be a dog fight. It's going to be a dog fight, but it's going to be fun though. I enjoy playing New England. This will be my eighth time playing them and I've been playing for six years. I enjoy playing them. I enjoy the wins, I've enjoyed the losses because you learn from them. But it's going to be fun. It's going to be a dog fight because we obviously know what Tom (Brady) and coach Belichick can do.
Sarina: I feel like most people wouldn't like playing the Patriots.
CJ: They bring the best out of you. When you beat the Patriots you've earned it. If you want to be at your best, play the Patriots.