Sarina: It's your second year in the NFL, so two things, what have learned about yourself and what have you learned about football?
Josh: I would say patience. It just proved I had a little more patience than I expected myself to have. Getting in a situation, and not expecting to be a backup. I got my work in for a whole year with special teams. Blessings come in disguises. And football… the NFL is a lot more business.
Sarina: What do you mean?
Josh: There is a lot of stuff I don't really understand yet in this league. I understand football but being in the league is different. It's more than just X's and O's.
Sarina: I saw an article you are the "sleeper" when it comes to this game (Rams vs Saints). So, to take that literally, are you a morning person or a night person?
Josh: I'm a night owl for sure! I struggle in the morning.
Sarina: Coffee? What do you do to wake yourself up?
Josh: Nah, I can't drink coffee. Its nasty! (laughs) I do a couple laps around the building to try and wake myself up a bit. Splash some water (on my face).
Sarina: On IG you posted a photo… "Get you a coach that looks at you like Yarbs does…" What is it about (Wide receivers) Coach (Eric)Yarber that you love so much?
Josh: His energy. He cares about the guys. He's genuine and you can see it. He doesn't treat anyone different. He wants everyone to get better. He comes with so much juice every day. It's hard for you not to get juiced up with him. I like having a coach like that. He cares. He's a good dude.
Sarina: Aaron Kromer (Run Game Coordinator) said you look like a tight end (blocking on the field) … I don't know if you are aware of that.
Josh: (Laughs) It would be nice if he was talking about my body size, but I'm pretty sure he's talking more about my blocking.
Sarina: (Laughs) Sure, but the wide receivers do a bit of everything.
Josh: Yeah, and it's awesome getting a compliment from Kromer because I've been trying to get a compliment from him since I got here with the run game (laughs). And he's been my guy since I got here. He's told me everything I've needed to do. Even when I was in that back up position and trying to keep my head into things. He's also a good dude. He doesn't care what position you are, he's going to teach you how he teaches everybody. He has no filter and it's awesome.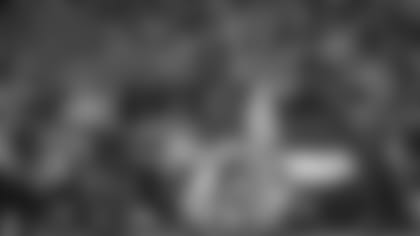 Sarina: You went to Texas A&M. Played at Kyle Field—known for the 12th man. Its loud. What would you compare it to in the NFL? Or is there anything?
Josh: Minnesota last year, it was loud, and the dome (Superdome). Probably the two loudest I've ever been in.
Sarina: So, you are ready for this (game against the Saints).
Josh: Yeah, I'm ready for this. It (Kyle Field) gets loud with the 100,000 (fans), but the dome keeps everything in, and it just rocks it. I think it will be a pretty good contest.
Sarina: What is your favorite memory this season?
Josh: Probably the Chiefs game overall. The atmosphere. The whole game and just being part of history.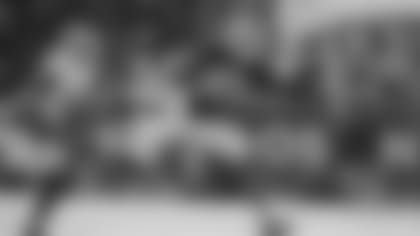 Sarina: Fill in the blank. One-handed catches are…
Josh: The sh*t! (laughs) I got some mittens. They ain't the biggest, but they have clampers on them.
Sarina: I see you pregame making those catches all the time. You do it at least once during warmups.
Josh: I got to. It's a tradition now.
Sarina: We need to get some photos up on your Instagram because I feel like O'Dell (Beckham Jr.) and some of these other players (post photos)...
Josh: Yeah, they just do it for fun now, just to get some likes. (laughs). Like, oh! He can do that! Everybody's doing it now.
Sarina: Ha, everybody can dunk in the NBA.
Josh: Ha, yeah everyone! Soccer! Maybe put me some soccer clips up. I played soccer for five years.
Josh: Everything. I played everything. Soccer, basketball, football, track, a little bit of baseball. But that was too boring… baseball. I can't stand out there and hope a ball comes to me.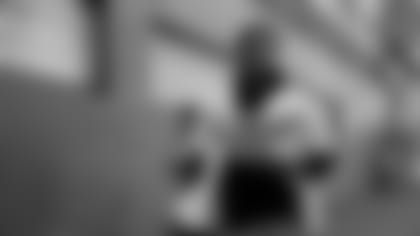 We are throwing up points! We might score more than the Spurs.
Sarina: Alright so you played all sports… you are from San Antonio… so Spurs?
Josh: Nah! Never been. I think it's more because my mom was never a Spurs fan.
Sarina: So, who are you a fan of?
Josh: I'm a fan of players. So OKC, when KD (Kevin Durant) was there. I liked the Russell Westbrook and KD tandem. I can't say I'm a Warriors fan because KD is over there, but I like KD.
Sarina: No coach Pop (Gregg Popovich) then?
Josh: They (The Spurs) were just too boring. (laughs) Fundamentals (Claps his hands like he's waiting for a basketball to be passed to him). They have to pass the ball five times before somebody shoots it.
Sarina: Well I guess the Rams really aren't boring. I was going to say compare that to what we do.
Josh: We are throwing up points! We might score more than the Spurs. (laughs)
Sarina: We hit the road on Saturday. You're on the plane. Are you a sleeper? Watch a movie? Talk to your neighbor?
Josh: Depends how long the flight is. Anything over an hour and a half, I'm knocked out. K.O. Preferably before the plane takes off. I'm not too much of a flier. I don't like flying. Never have.
Sarina: Last question, I asked Gerald (Everett) the same question, and he put you on his Family Feud team, so I'll ask you, you go on Family Feud, who would be your four teammates?
Josh: It's got to be my man G (Gerald Everett), Rob (Robert Woods), Brandin Cooks… he'll throw out some crazy answers and then Cooper Kupp because he'll actually know the answers! So yeah, definitely Coop (Kupp), Cooks will throw out some funny stuff for Steve Harvey. He'll throw out some jokes, and I like to laugh. Rob (Woods) is also random. He'll also throw out some random stuff. G (Gerald Everett) is my guy, I got to have him on there.