In partnership with CBS-2/KCAL-9 and Los Angeles Unified School District, the Rams will recognize a Student and Teacher of the Month with an all-school assembly and tickets to attend the Rams 2018 season opener in an effort to celebrate students who are excelling in the classroom, and teachers who are going above and beyond to positively impact the lives of their students. On Wednesday, February 21, the Rams and CBS-2/KCAL-9 honored their first student and teacher when they visited Oliver Wendall Holmes Middle School in Northridge to recognize 8th grade student, Afrika Nkosi, and science teacher, Dina Karathanas, as LAUSD's Student and Teacher of the Month.
Nkosi, known for her infections kindness and positive attitude, is a leader amongst her peers and currently serves as the student-body president, speaks fluent Korean, and has a 3.6 cumulative GPA in all advanced level courses. She aspires to attend NYU and to become a mathematician upon college graduation. Since the Rams moved back to LA in 2016, Nkosi has found inspiration in Rams star running back TODD GURLEY. After the all-school assembly, Nkosi had the opportunity to connect with her favorite player via FaceTime in which Gurley congratulated Nkosi and Karathanas for their accomplishments and encouraged them to continue inspiring others.
"I was truly speechless," said Nkosi. "FaceTiming with Todd Gurley was by far one of my best experiences."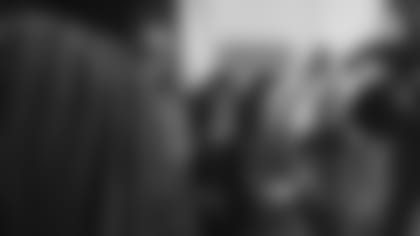 Dina Karathanas has been teaching science at Holmes Middle school for the past 24 years and has never wanted to leave due to her commitment to her students. She takes tremendous pride in being a positive and supportive figure in her student's lives in-and-out of the classroom, often attending her students sporting events on weekends. Four years ago, Karathanas was battling breast cancer but never missed a day of school as she went through chemotherapy and radiation treatment.
"I am filled with gratitude for the recognition from the Rams and CBS-2," said Karathanas. "I'm not in the teaching profession for the acknowledgement from anyone other than myself, but when it happens after putting so much time and energy into my teaching, it reaffirms to me that I'm in the right place and doing the right thing with my knowledge."
As someone who always enjoyed the camaraderie of team sports growing up, Karathanas appreciates the physical, social and mental skill and preparation it takes to perform at a professional level. She often uses athletes as inspiring examples for her students to continue to set high expectations for themselves.
"I grew up playing sports and it gave me confidence to handle things that come my way," said Karathanas. "Todd Gurley is a fine example of someone who pushes themselves to their best self. So when I FaceTimed with him, I was really excited and filled with energy. I've never met a professional athlete before, and for him to take time out of his busy schedule to recognize Afrika and I was really fantastic. He's a true MVP in my playbook!"
Holmes Middle School principal Kim D'Aloisio is proud to recognize Nkosi and Karathanas because of the ways they elevate the performance of others around them. As a student, Nkosi's humble leadership-by-example approach has caught the attention of her peers, as Karathanas continues to find creative ways to engage and push her students to limits they didn't always know they could reach.
"It was an incredible experience and a great honor for our school to spotlight these amazing people who are unspoken heroes and quiet achievers in our community," said D'Aloisio. "Both exemplify the qualities of highly effective leaders: caring, passionate, responsible, and a willingness to learn. All of these qualities are really valued as part of our school's vision and mission."
For more information about the Rams and CBS-2/KCAL-9's LAUSD Student & Teacher of the Month initiative, or any other program, please visit therams.com/community.