The Los Angeles Rams today announced in front of their Season Ticket Members at an exclusive Training Camp practice that they will introduce a new uniform look entering the 2020 season to coincide with the opening of LA Stadium at Hollywood Park.
Over the next two years leading up to 2020, the Rams will continue to honor their history in Los Angeles through their uniforms.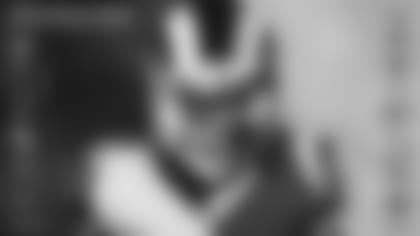 During 2018 home games at the Coliseum, the Rams will wear their throwback uniforms five times and their white uniforms four times. The team will wear their white uniforms for the first four home games, including two preseason and two regular season games. The Rams will then introduce their throwbacks on Thursday, September 27, when L.A. kicks off FOX's inaugural Thursday Night Football package vs. the Minnesota Vikings and will wear them for subsequent games at the Coliseum. Full list of games and uniform assignments below.
"Since returning home to Los Angeles two years ago, we have received a lot of feedback from our fans about their love for these iconic uniforms," said Los Angeles Rams COO Kevin Demoff. "We appreciate the NFL working with us so we can celebrate even more of the history of Los Angeles Rams football over the next two years as we create our new look that will take us into our new home and the future."
The Rams throwback uniforms feature royal blue jerseys with yellow accents, yellow pants with blue and white stripes, and blue helmets with yellow horns worn by the team from 1973 through the 1999 season that culminated with a win in Super Bowl XXXIV.
Starting in 2016, the Rams wore white uniforms at home as a modern nod to the team's history in the Coliseum and in Los Angeles. In 2017, shaped by a fan vote on social media, the Rams re-introduced the white-horned navy helmet with a white face mask, paired with white pants with one navy stripe down the side, and their white jersey with navy and gold accents. The white uniforms the Rams wear in 2018 will continue this look.
Below is the Rams 2018 schedule. For information regarding Rams tickets, fans may visit therams.com/tickets or contact the Rams Ticket Office at 818-338-0011 x 1 or info@rams.nfl.com.