DETROIT — It's the second time around, but it's just as sweet — if not sweeter.
That's at least the feeling you might have gotten hearing about the Rams clinching their second consecutive NFC West title from Nickell Robey-Coleman.
"What's going on right now is amazing, it's crazy — crazy in a good way and we just got to keep it going," Robey-Coleman said. "Everybody shows up to work every day, everybody gives their effort, everybody doesn't complain. We are just out here, it's really 'We not me' — we are really living that."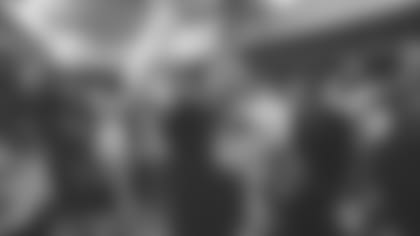 'We not me' — that's been the Rams' mantra since Sean McVay began his tenure as Los Angeles' head coach last year. And when you think about Los Angeles' star defenders, Robey-Coleman may not be at the top of the list. But he's been as much of a part of the Rams' success in the last two years as anyone after signing with the team as a free agent in the 2017 offseason.
So, no, it's not necessarily right to interpret what he had to say as speaking for the entire team. But he was as fired up as ever after L.A. officially punched its ticket to the postseason.
"It feels different because other outside factors happened, which gave us the birth of winning the [division]. This year, we eliminated everybody. We went through adversity, went through this, went through that, prevailed and now we are here. It just shows the character and the toughness of the team
Robey-Coleman wasn't the only one to say this victory, this successful clinching felt different than last year. And according to a lot of players, one of the biggest factors was that this year, everyone expected the success.
"Last season was the first time in a long time and this season we've had so much success up to this point and did expect it towards the end of the year and are happy to get it done when we could," quarterback Jared Goff said.
"Last year was something new — we just wanted to play good last year, we didn't know we were going to win the division, we just wanted to win some games," defensive lineman Michael Brockers said. "But this year, we knew what the expectations were coming in and to get them done in this kind of fashion is great."
As an organization, the Rams have not won back-to-back division titles since 1978 and 1979. You've likely heard that sometime over the course of the last few weeks. And because of it, there's something to be said for the fact that L.A. has not only maintained, but elevated its play this season to accomplish that feat.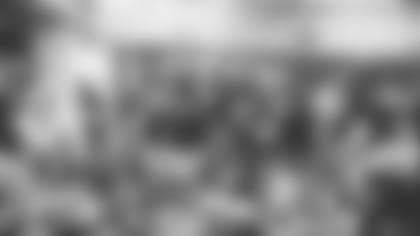 "It says a lot about these guys, and I know it says a lot about our coaches, our players — their ability to just stay one day at a time," McVay said "We talk about consistency being the truest measure of performance and they've consistently displayed the ability to just come to work, focus on that daily improvement, that daily excellence. A long way to go, but to be able to get that done, to accomplish back-to-back West championships is something that we cherish."
"Just building something special — we just got to keep rolling," defensive tackle Aaron Donald said. "Like I said, first step — we can check that off now — but we got a lot more football to do and a lot more games to play. We aren't satisfied yet, but we are headed in the right direction."
The Rams are headed to the playoffs for a second consecutive season, and now there are players on the team who know nothing but success — like safety John Johnson.
"It's funny, Rodger [Saffold] and I have the same agent, so we are kind of close and he came up to me and said, 'You lucky young buck,' and I was like, 'Hey man I'm blessed,'" safety John Johnson said. "But it means a lot to get started off on this path, learning how to win, that's a big thing in football, period. Teams that have a winning culture, that's a big thing, so I hope it carries on the rest of my career honestly."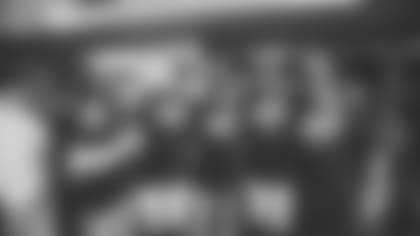 A winning culture — that's exactly what the Rams have tried to establish. And so far, the one-game-at-a-time approach has worked for the last two years. So even as the Rams know home-field advantage is theirs for the taking, they're not going to change in the last quarter of the season.
But first things first: The Rams play the 8-4 Bears on the road next week, and L.A. will have an opportunity to clinch a first-round bye with a win.
"[R]eally just beating Chicago [is the next goal], and we can't really control anything outside of that, so that's what you focus on," Goff said. "You know what the bottom box is and we've got a few more to go, but it starts with beating Chicago."
"There's a lot of football left to be played — a lot of things left to play for," McVay said. "I know our guys want to continue to compete and that's what we need to do. We have to continue to take steps in the right direction. All we know now is that we are guaranteed a home playoff game, when that will be — we don't know that — but there's still a lot of [room for] improvement."