At the beginning of the 2017 school year, the Los Angeles Rams partnered with City Year to support elementary students at Grape Street Elementary school in Watts. City Year is a national organization that mobilizes AmeriCorps members for a year of full-time service in underserved communities to serve as tutors, mentors and role models for students to help them graduate high school, college, and become career-ready.
As a result of the partnership, the AmeriCorps team has served 623 students, provided more than 10,000 hours of service, and an additional 3,278 hours of extended learning time for students in the after-school program at Grape Street Elementary.
"We are incredibly grateful that the Rams have made this investment in City Year and it means a lot to our students that they have an AmeriCorps member wearing a Rams logo here to support them," said Erin Ross, Senior Managing Director, External Affairs. "We are just very grateful for the partnership."
AmeriCorps team members greet students as they arrive to their classrooms and end their day when all students attending the after-school program are picked up by their parents or guardians. While their impact is felt before and after school, teachers and parents have also noticed significant contributions for their students in the classroom.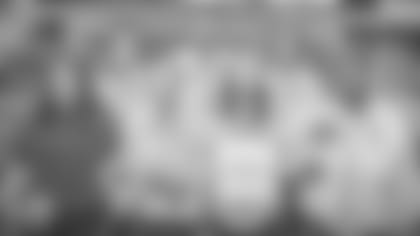 "Teachers report that having an AmeriCorps member in their classroom really allows them to differentiate their instructions. They don't hold the rest of the class back if there are a handful of students missing a key fundamental and they are able to keep the class moving and work with a City Year member to make sure those students are getting what they need to move ahead," said Ross. "Teachers believe that City Year AmeriCorps members improved the overall performance of their students."
Since the partnership kicked off, Grape Street Elementary has seen progress in students meeting and exceeding growth metrics on the English/Language Arts assessment, which increased by 33%. Additionally, many students moved up one or more levels on the California State Standardized Assessment and on the Math assessment test in 17-18.
"At the Rams, we believe that education is a social justice issue – a child's education and future opportunities should not be dictated by their zip code," said Molly Higgins, Vice President of Community Affairs and Engagement, Los Angeles Rams. "We have placed an emphasis on becoming collaborative partners in the education space and City Year has become one of our important partners as we work to help close the achievement gap for low-income students."
At Grape Street Elementary they're committed to building relationships within their community and being able to provide a safe a nurturing environment for their students. With having an AmeriCorps member at their school to help emphasize their mission, they have seen success with continuing to build positivity in their school culture.
"Having City Year AmeriCorps members at our school has been a huge lift with our continued implementation of our vision at Grape Street. City Year and it's AmeriCorps members have been key components in helping us build a positive school culture," said Grape Street Elementary School Principal, Keith Nakano. "Members continue to collaborate with staff, parents and community stakeholders to build trust amongst all of our stakeholders. I'm thankful to have City Year on our campus and all of the support and partnerships they bring to our school."
While the partnership with City Year continues to grow, Rams Chief Operating Officer KEVIN DEMOFF has joined the City Year Los Angeles Board to maintain the relationship with young Angelenos and continue to learn about the impact City Year has had in the growth of students.
"Kevin has been instrumental on building this partnership from the very beginning," said Ross. "We have a new Board Chair [Andrew Hauptman], and he was looking at 'What does the next generation of leadership look like for City Year's Board?' He identified Kevin as a strong board member because his team is making a major investment in City Year and he has continually taken the time to come to a variety of our events and come to our school to learn about our work. Those are the kinds of board members we want."