"Today, we're going to teach you the game of football. But I also want you to understand that life is bigger than what you see on the field. It's about character, community and teamwork."
These are the words JOHNATHAN FRANKLIN, Community Affairs and Engagement Representative, voiced to a group of young men and women (grades 6-11) as he welcomed them to the Los Angeles Rams Gatorade Junior Training Camp at UC Irvine for the second consecutive year. Rams Hall of Fame Running Back ERIC DICKERSON made an appearance alongside Rams Legends LeROY IRVIN, HAROLD JACKSON and MICHAEL STEWART as they led participants in football-related drills and a discussion about health and wellness.
"We're using the power of sports to holistically develop these young men and women to be the best that they can be," said Franklin. "The LA Rams are excited to have a partnership with ShareFest and other organizations and really come together to do amazing work within our community. Together, we're igniting the light in these individuals."
Amongst the participants at the event were students from community organizations such as Saddle Back Valley Pop Warner Football, ShareFest, and the 7G Foundation. It was a rewarding day that cultivated relationships as youth from different organizations came together from various regions of Southern California.
"I learned that football isn't just a sport about winning," said Jared Referente, a participant with Saddle Back Valley Pop Warner. "It's about coming together as a team and a community and working hard to achieve your goals."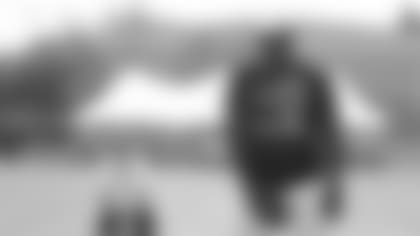 Similar to other Rams youth football initiatives, the Gatorade Junior Training Camp was open to both males and females and included a range of skill level and football experience. Competing in all the drills were a handful of young women who showcased their talents and abilities with their peers.
"I knew football was also for girls, but now we have proof," said one of the female participants with ShareFest. "We were out there showing everyone up! It was fun because we were the girl group and even though we were the least experienced, we all did so well. I actually did better than I thought I was going to so I'm happy and we're definitely coming back next year!"
For many who had previous football knowledge and experience, the Gatorade Junior Training Camp provided a unique opportunity to expand their understanding of the game. With former NFL Players and Rams Legends in attendance, camp participants were able to receive football-specific instruction to make sure that youth learn the correct and safe ways to play the game.
"Hearing from an NFL Legend about what is important in life and on the football field carries a ton of weight with these kids," said Rudy Babran, a Saddle Back Valley Pop Warner coach. "They pick up fundamental skills that they can take with them into their youth football seasons."
"My perspective on football changed after attending this camp," said one of the ShareFest participants. "My idea of football went from tackling and rough play to playing smart and outthinking your opponents."
In August of 2017, youth from various LA communities participated in the Gatorade Junior Training Camp on the Rams Training Camp practice fields at UC Irvine. Last year's rookies joined the event on their off day to teach youth the fundamentals of football and engage in friendly competition. Footage from last year's Gatorade Junior Training Camp can be viewed here.