The Rams finished the 2018 regular season trending upward, downing the Cardinals and 49ers —completing a sweep of the NFC West and clinching the No. 2 seed in the NFC. The Rams await the highest remaining seed between the Bears, Seahawks, and Cowboys in the divisional round, which will be played Saturday, January 12 in Los Angeles.
Every week,TheRams.com will be taking an aggregate look at where the team ranks in different outlets across the sports media landscape. Here are the power rankings for the Rams heading into the playoffs: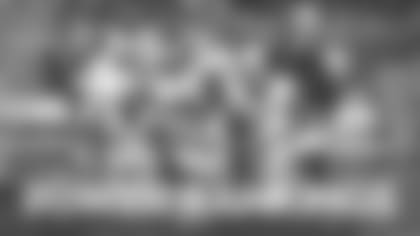 "The Rams closed out the 2018 season like it was 2001. Actually, even the "Greatest Show on Turf" Rams didn't bookend any season like that. In fact, the Kurt Warner-infused attack rang up a 48-spot just twice in the regular season during the Rams' 1999-2001 heyday. So, what now? Los Angeles owns a week off, which is wonderful and all, but halts the rhythm that Jared Goff currently finds (found) himself in (... after three woefully bad outings). C.J. Anderson was a stowaway for most of the NFL season, but has parked two 100-yard games on his resume in the past two weeks to give Sean McVay an insurance policy for Todd Gurley come the Divisional Round. All is well in Rams land."
"New Year's resolution: Make a Super Bowl appearance in Sean McVay's second season as coach. Sure, the Rams would actually like to win the whole thing, but an appearance alone would be a huge improvement after last season's first-round exit thanks to a disappointing effort against Atlanta. And keep in mind, few had Super Bowl expectations this early when the Rams made McVay the youngest head coach in modern NFL history in January 2017. The Rams earned the No. 2 seed in the NFC with a 13-3 record, so they'll get a week to rest and should be fresh for a playoff game at the Los Angeles Memorial Coliseum before a probable trip to New Orleans."
"Aaron Donald finished with 20.5 sacks. That's the new record for a defensive tackle in a season and that record (which had stood for almost 30 years) might last a long time … unless Donald breaks it himself."
"Needed bye with Todd Gurley, Andrew Whitworth on mend. Won't open playoffs hosting Kryptonite Eagles, who have beaten Rams six straight times."