The Rams lost their second game of the season and failed to clinch a first-round bye Week 14 in Chicago.
Los Angeles (11-2) will take the field on NBC's Sunday Night Football for a second-straight week this Sunday in L.A. against the Philadelphia Eagles (6-7). The Rams are seeking to avenge last season's 43-35 loss to the defending world champions and improve to 12-2 with two games remaining in the regular season.
Every week,TheRams.com will be taking an aggregate look at where the team ranks in different outlets across the sports media landscape. Here are the power rankings for the Rams heading into Week 15: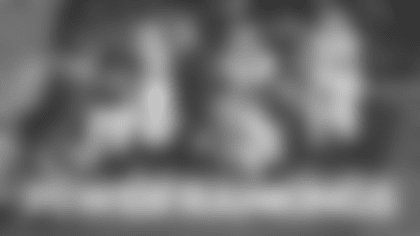 "The denizens of the Twittersphere -- along with a few colleagues at NFL Network -- voiced their collective displeasure at the Rams not taking the No. 1 spot last week. Welp. Unlike when Los Angeles eked out a victory in Seattle, survived the Packers or outlasted the Chiefs, it could not escape Chicago with a win. Sean McVay's group was out of the top spot last week partially because it lost to the Saints in Week 9, with the other major factor being the Rams' spotty defensive play. But that wasn't the case on Sunday night, with Jared Goff and the offense unable to get anything going against the Bears."
"Top wish list item: A Super Bowl ring. OK, so technically, that wish can't be granted until February. But really, that's all this Rams team wants after an offseason that screamed "Super Bowl or bust" with the additions of All-Pros Aqib Talib, Marcus Peters and Ndamukong Suh, not to mention record-breaking paydays for Aaron Donald and Todd Gurley. The Rams have clinched the NFC West for a second consecutive season, and while they found plenty of enjoyment in that, their goal from the outset was to earn a date in February. Anything less than that stands the chance of getting re-gifted."
"The difference between the top three teams is slight. You can make a strong argument for the Saints, Rams or Chiefs in the top spot. All of them had some bad moments on Sunday. Again, that happens in the NFL. Even though it's clear they're the top three teams, everyone is beatable. We saw that with the Bears beatdown of the Rams on Sunday night. The playoffs might get really crazy this season."
"They should be very happy that this year's Super Bowl isn't being played outdoors in a cold-weather city."
THIS WEEK'S OPPONENT'S RANKS — PHILADELPHIA EAGLES