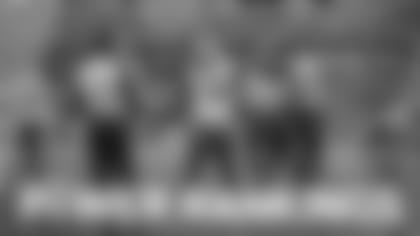 The Rams clinched their first division title since 2003 and their first playoff berth since 2004, after taking home a 27-23 victory over the Titans in Week 16. L.A. will be back home on Sunday for its final contest of the regular season to host division rival, the San Francisco 49ers.
Every week, TheRams.com will be taking an aggregate look at where the team ranks in different outlets across the sports media landscape. Here are the power rankings for the Rams heading into Week 17:
"The Rams earned a quality road win Sunday, even if it was a bit closer than most pundits anticipated. Todd Gurley continued to stake his claim -- and, by extension, the claim of every overlooked running back over the years -- to the league MVP award. Ezekiel Elliott should have received serious consideration last year. Hopefully, Gurley, who racked up 276 (276!!!!!) yards from scrimmage Sunday, will do better with the voters this year. The effort of the day, though, must go to Connor Barwin, who was all motor on that final Titans play to corral ... or upend ... or discombobulate Marcus Mariota. Heck, I don't know what to call that final sack/tumble/Vlade flop."
---
"You know you're having a special season when you hit your preseason over/under halfway through the schedule. That's what Los Angeles did this year. And while Jared Goff's improvement has been key, give some love to Todd Gurley, who eclipsed 2,000 yards from scrimmage in Week 16."
---
"Todd Gurley is very unlikely to be the league's MVP. It's difficult to imagine the award going to anyone but Tom Brady. But Gurley is having a terrific season and he certainly belongs in the conversation."
---
"Even with a kicking issue, the Rams are able to win in all three phases. They still have tremendous special-teams players, an opportunistic pass defense, a quality pass rush and a bevy of offensive weapons. They also have Todd Gurley, who would be my pick for NFL MVP.
A year after going just 4-12, the Rams have a legitimate shot at going to the Super Bowl."
---
"If MVPs are defined as players who step up in clutch, then consider Todd Gurley's 456 total yards, six TDs last two weeks as L.A. clinched division."
---
"Sean McVay's success reaffirms the reality that a good coach is worth a lot more money than a good player."
THIS WEEK'S OPPONENT'S RANKS — THE SAN FRANCISCO 49ERS