The Los Angeles Rams joined hundreds of people and city officials in Echo Park on Friday, March 9, to support the launch of United Way of Greater Los Angeles' Everyone In *coalition, which aims to fight towards the common goal of ending homelessness across Los Angeles county. Onsite for the coalition's announcement was Rams guard JAMON BROWN, hall of fame running back ERIC DICKERSON, and COO KEVIN DEMOFF, who provided a few words of encouragement and support. In attendance were other notable community stewards and officials such as Mayor Eric Garcetti, Supervisor Mark Ridley-Thomas, star of NBC's *This Is Us Jon Huertas, and United Way of Greater Los Angeles' President and CEO Elise Buik.
"Everyone In is a strong coalition of community, business, civic and philanthropic leaders and partners to end homelessness in Los Angeles County," said Buik. "We couldn't be more proud to have the Los Angeles Rams, under the leadership of Kevin Demoff, at the forefront to help our most vulnerable neighbors who are suffering on our streets on any given night. I encourage everyone to become part of our winning team, and help end homelessness with effective and efficient solutions under the goal of supportive housing from Measure H and Prop HHH."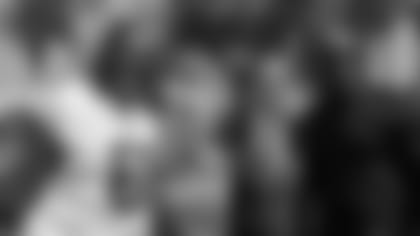 The city initiative will bring together leaders within LA County philanthropy, business, labor, and community organizations to keep the permanent solutions to homelessness moving forward by creating ways for the public to get involved, measuring and sharing progress, and celebrating program successes.
*Everyone In *will offer Angelenos opportunities to learn more about the work that is happening across the country, volunteer, train, and organize people to advocate for approving supportive housing and other needed services in their own neighborhoods. Meanwhile, the community alliance will monitor Measure H and Proposition HHH funded programs and share both progress and challenges with the objectives of: ending homelessness for 45,000 people, preventing homelessness for nearly 30,000 people, and approving approximately 5,000 units of supportive housing for the city's most vulnerable by July 2022.
Angelenos can learn more about the *Everyone In *coalition, follow the program's progress, or get involved in the campaign by visiting EveryoneInLA.org.
About United Way of Greater Los AngelesUnited Way of Greater Los Angeles is a nonprofit organization fighting to end homelessness and poverty by providing students with support needed to graduate high school prepared for college and the workforce, providing housing for our homeless neighbors, and helping hard-working families become financially stable. United Way identifies the root causes of poverty and works strategically to solve them by building alliances across all sectors, funding targeted programs and advocating for change. For more information, visit UnitedWayLA.org.
For more information about the Los Angeles Rams community outreach efforts, please visit therams.com/community.