After supporting frontline medical heroes at Cedars-Sinai with meal kits several weeks ago, Los Angeles Rams Defensive Lineman SEBASTIAN JOSEPH-DAY wanted to extend his appreciation to Centinela Hospital in Inglewood.
Last month, Joseph Day hosted a DJ session on Instagram Live to raise nearly $5,000 to benefit local healthcare medical providers.
In partnership with Superfine Pizza and Chef Steve Samson, Joseph-Day used the proceeds to provide pizzas for the 500 employees at Centinela Hospital in Inglewood on Tuesday, April 28, Friday, May 1 and Saturday, May 2.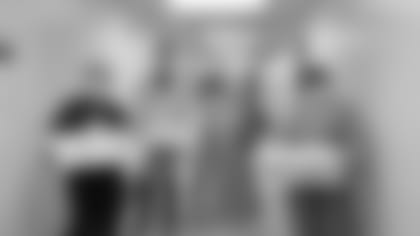 "I'm excited to announce that Chef Steve and I are collaborating again to feed workers at Centinela Hospital," said Joseph-Day in a video message to the hospital's medical staff. "We want to thank Centinela Hospital for all the hard work and dedication they are putting in to keep us safe from COVID-19. I also want to shout out all the people who participated in my Instagram Live quarantine donation party. None of this would have been possible without you. Now we're able to feed another hospital and we hope they enjoy the food…Stay safe!"
The initiative built off Joseph Day's recent efforts working alongside Chef Steve Samson to support frontline medical workers at Cedars-Sinai. On April 16, Joseph-Day donated $10,000 to Rossoblu's Restaurant Relief to fund prepared meals for medical staff.