The Los Angeles Rams defeated the Seahawks for the second time this season in another close game. Despite allowing a whopping 273 yards rushing, it was the Rams' defense that finally stopped the ever-knocking Seahawks.
The defensive effort was highlighted by outside linebacker Dante Fowler's fourth quarter strip-sack and a record-setting 2.5-sack performance by defensive tackle Aaron Donald.
Here are seven stats that stood out in Week 10 against the Seahawks: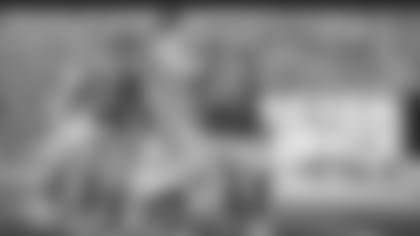 1. DONALD SETS DT SACK RECORD
Aaron Donald recorded his 50th and 51st career sacks on Sunday, breaking the Rams' single-season sack record for a defensive tackle.
Donald's 12.5 sacks in 2018 surpass former Rams defensive tackle D'Marco Farr, who recorded 11.5 sacks recorded in 1995.
Donald finished the game with 2.5 sacks and has now sacked Wilson 10.5 times in his career — which is his most against any quarterback.
Wide receiver Robert Woods reached a single-season career high in receiving yards on Sunday.
Woods' four receptions for 89 yards against the Seahawks brings his 2018 total to 832 yards receiving, which is a career high.
His previous best season receiving came last season, when Woods totalled 781 yards in just 12 games.
The Rams scored a pair of touchdowns using its tight ends against the Seahawks.
Second-year tight end Gerald Everett caught just the second touchdown pass to a tight end for the Rams this season. Everett's first-quarter touchdown was his first of the season, and third of his young career.
Starting tight end Tyler Higbee then caught a 10-yard touchdown pass from quarterback Jared Goff to open the fourth quarter and put the Rams ahead 26-21 with a failed two-point conversion attempt.
Higbee entered Sunday's game with just eight receptions for 110 yards and one touchdown on the year.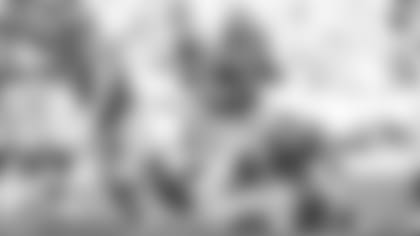 4. 100 GURLEY GOES FOR 100
Running back Todd Gurley was once again a bright spot for the Rams offense, adding 160 yards of total offense against the Seahawks.
Gurley found the end zone one time in Week 10, extending his streak to 13 consecutive regular-season games with a touchdown.
Gurley extended his franchise-record touchdown streak on a 17-yard run late in the second quarter.
Gurley's 120 yards rushing against the Seahawks is his fifth game in 2018 tallying at least 100 yards. Gurley rushed for north of 100 yards six times in 2017.
Outside linebacker Dante Fowler recorded his second forced fumble and fumble recovery of the season in his L.A. Memorial Coliseum debut.
On a big 3rd-and-3, with six minutes remaining in the fourth quarter, Fowler strip-sacked Wilson, and then dove on the loose ball at the Seahawks nine-yard line.
Fowler's celebratory bow to his new fanbase was shortly followed by a nine-yard touchdown connection from wideout Brandin Cooks on a jet sweep, which put L.A. up 12 with under six minutes remaining.
Second-year wideout Cooper Kupp caught made his 100th-career reception on Sunday.
Kupp needed just three catches to hit the century mark entering the game. He reached the milestone on a first-quarter, 25-yard reception down the left sideline for a first down.
Kupp finished his Week 10 with five receptions for 39 yards. He left the game early, following a non-contact knee injury in the fourth quarter.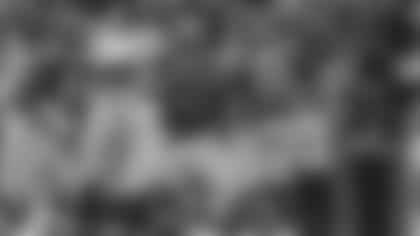 The Rams are back in the win column and are yet to lose back-to-back games in the regular season under head coach Sean McVay.
With Sunday's victory over the Seahawks, the Rams have now successfully bounced back after a loss in five regular season games since the beginning of 2017.
The Rams are now 9-1 and have clinched back-to-back winning seasons for the first time since 2000 and 2001.