The Los Angeles Rams returned to the L.A. Memorial Coliseum on Sunday, beating the Arizona Cardinals 34-0 in their first divisional matchup of the season.
The Rams powered past first-year head coach Steve Wilks and his Cardinals behind running back Todd Gurley's pounding redzone runs and quarterback Jared Goff's efficient distribution through the air to an array of open receivers.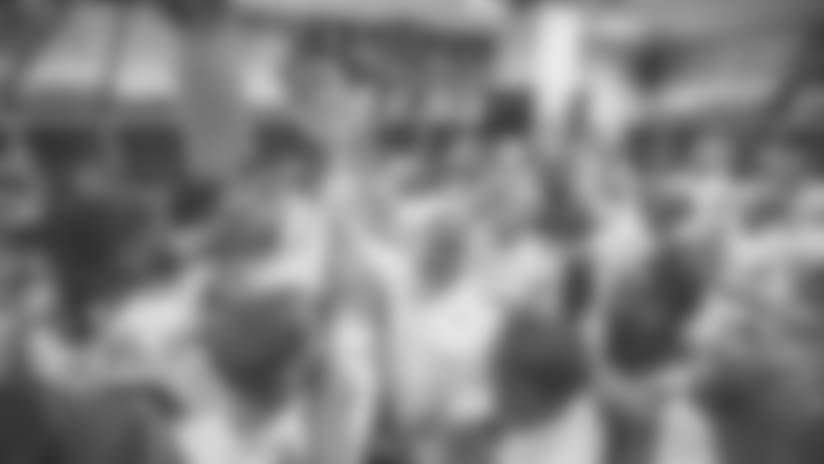 Here are seven stats that stood out in Week 2 against the Cardinals:
1. DONALD TIES RAMS RECORD
Defensive tackle Aaron Donald entered Sunday's game just two tackles for a loss away from holding the Rams all-time TFL record.
With his only TFL of the day, Donald matched former defensive end Chris Long's total at 73.
Donald's tackle came late in the first quarter on a loss-of-two run by Cardinals running back David Johnson.
Donald finished his day with four tackles.
Earlier this week, the Rams added returner JoJo Natson to the roster in-place of the injured Pharoh Cooper. Natson, 5-foot-7 and 153 pounds, played well on special teams on Sunday, racking up 133 punt return yards in six fielded punts — good for a 22.2-yard average.
Natson's longest return of the game came in the second quarter, when he broke through the Cardinals special teams unit for a 60-yard return down the left side of the field to the Cardinals 32-yard line. The long return primed quarterback Jared Goff's offense with optimal field position for their second touchdown-scoring drive just before the halftime break.
Cooper injured his ankle in Week 1 against Oakland and is expected to miss at least eight weeks.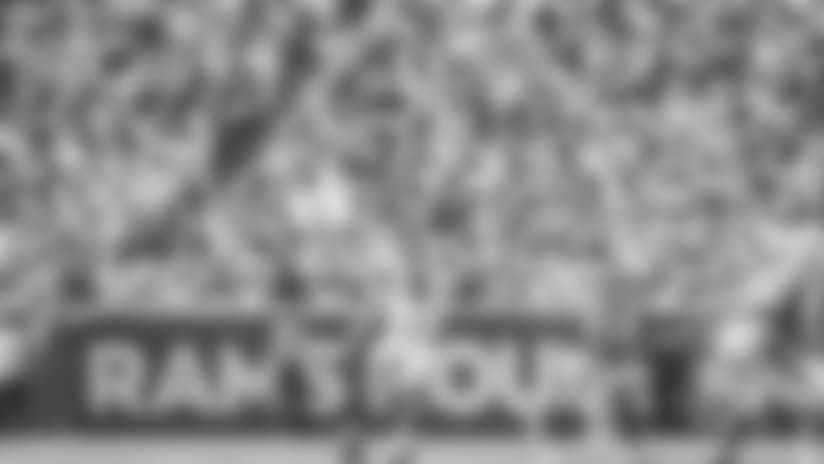 Kicker Greg Zuerlein unexpectedly missed Sunday's game to a groin issue. No Zuerlein proved no problem for the Rams, who successfully converted three-of-three attempted two-point conversions in place of Zuerlein extra points.
Running back Todd Gurley put four points on the board, re-entering the end zone following his first two touchdowns of the game by successfully converting both attempts on runs up the middle.
Goff also connected with backup running back Malcolm Brown in the end zone for a successful two-point attempt.
Punter Johnny Hekker assumed kicking duties in Zuerlein's absence. Hekker nailed his first ever career field goal — the Rams' only field goal of the day — halfway through the second quarter, from 20 yards. Hekker then tacked on a successful extra point in the fourth quarter.
Wide receiver Brandin Cooks once again led Rams receivers in Week 2. Cooks was also Goff's preferred target, connecting on seven-of-nine targets.
Cooks' longest reception of the day came on a 57-yard shot from Goff, advancing the Rams to the Cardinals 22. The ball has a just a hair underthrown — forcing Cooks to backpeddle, and watch the ball into his pads while tumbling to the ground.
Cooks averaged 22.7 yards per reception on Sunday, with four catches of 20 yards or more. He entered Week 2 fifth-best in the league for receptions of 25 yards or more since 2014.
The Rams offense played a more complete game in Week 2, following Monday Night Football's tail of two halves in Oakland.
Goff moved the ball effectively down the field — setting up red zone opportunities for Gurley.
Goff completed 24-of-32 passing attempts for 354 yards. He finished the game with one touchdown and one interception. Goff connected on 75-percent of his passes, targeting both Cooks and receiver Robert Woods nine times, and receiver Cooper Kupp six times.
Goff connected with tight end Tyler Higbee with just over three minutes remaining in the game for the Rams' only passing touchdown of the game. Higbee's three-yard reception was his first catch of the season and only his second target.
In a dominant victory across all three phases of the game, the Rams defense did struggle to bring down Cardinals quarterback Sam Bradford.
In 2017, the Rams defense totaled 10 sacks in their two meetings with the Cardinals. Donald and defensive tackle Ethan Westbrooks accounted for 6.0 of those sacks.
Bradford was sacked just once on Sunday, brought down by linebacker Samson Ebukam for a loss of seven in the second quarter.
While the defense shined on Sunday, allowing just three Cardinals first downs through three quarters — Rams fans are still awaiting an Ndamukong Suh or Donald sack in 2018.
Sunday's win marks the first time the Rams have started a season 2-0 since 2001. It's also the team's first win at home in the L.A. Coliseum in 2018.
Sunday's win may be especially sweet in L.A., as the Rams had a tough time on their home turf a year ago, finishing 3-5 in the Coliseum, including playoffs.
The Rams have now shut out the Cardinals in two of their last three meetings and extended their win streak to three games.