Each week, I interview a different Rams player to find out about their lives on the field as well as off it. This week, quarterback, Matthew Stafford talks about Sean McVay's energy, being a girl dad and playing in the same city as his buddy Clayton Kershaw.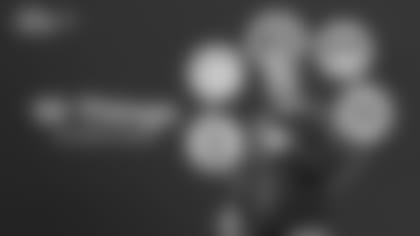 Sarina:What excites you most about joining the Rams?
Matthew: I think the opportunity to play with some of the great players that I've watched for a long time, both on the offensive and defensive side of the ball. This is a really talented team that's had some great players as a part of it. I'm excited to get to work with those guys and try to achieve everybody's goal at the beginning of the season is to go out there and win the Super Bowl. And that's going to be ours as well, I'm sure.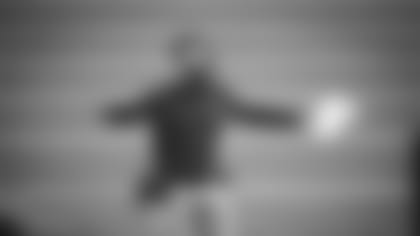 Sarina: One word to describe Sean McVay
Matthew: Energy. He's got a great contagious energy about himself. The way he both loves the game of football but loves life too. He's a guy that is always a good time to be around.
3: Reunited and it feels so good
Sarina: You and (Dodgers pitcher) Clayton Kershaw go way back. Do we have Clayton to thank when it comes to you becoming a Ram?
Matthew: HA! No, but I am excited to be in the same city as him and watch him, up close and personal, and do what he's been doing at a high level for such a long time.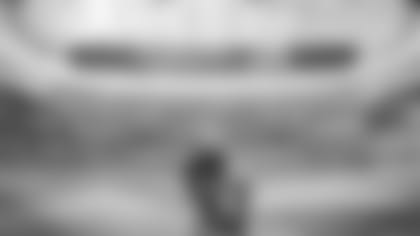 Sarina: How did you get number nine away from John Wolford?
Matthew: I obviously reached out to him. And he was receptive. I know he's played some games in that number, so he wasn't just going to give it to me, but at the same time, I'm just excited to get to work with him.
Sarina: What do you think about the wide receiver group now with the addition of DeSean Jackson?
Matthew: It's extremely talented. I think it's a great blend of guys who are young in Van Jefferson, and a guy who's a little bit longer in the tooth, and that's DeSean, but can still really move. And then a couple guys that I think are right in the middle of their prime in Cooper and Robert, so I'm excited. I don't know everybody in and out yet, but I'm excited to get to work with these guys and see who can do what and develop that rapport with.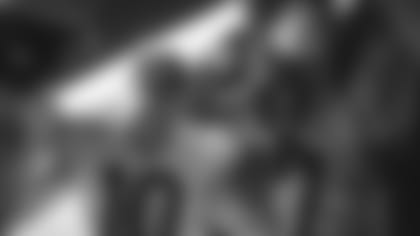 Sarina: What impresses you most about Aaron Donald from afar?
Matthew: I think his physical traits jump off the screen to you. That's obvious. To see his ability to slash and get in between, block, defeat, one, two, three guys, whoever's blocking him. That stuff is a bit obvious. But you know, his mental aptitude for the game is off the charts and something that I don't know is talked about enough. He's the guy that recognizes blocks as quickly as anybody I've ever seen. I'm excited to get to have him on my team and be in a red jersey when I play him in practice and not live.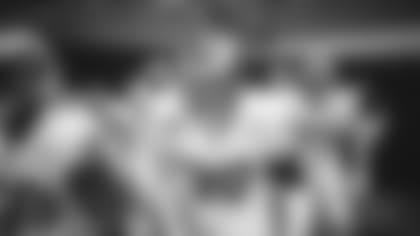 Sarina: What's being a dad to four daughters taught you?
Matthew: Patience. (Smiles) It's taught me a lot. People talk all the time; you're going to try for a boy and I'm so happy with the four girls that I have. It's the greatest part of my life, to be honest with you. It changed it in so many ways. As a parent, you'll never know, what that feeling is until you have kids and I've been lucky enough to have that four times. Four beautiful little daughters. I'm lucky in that regard.
8: Three icons go to dinner with Stafford
Sarina: Three icons you will want to sit down and have dinner with, dead or alive?
Matthew: I would want to sit down and have dinner with Michael Jordan. That would be awesome.
Sarina: Richard Sherman says you'll throw for 5,000 yards this season. What do you think about that prediction?
Matthew: I think Richard baits me, like he always does on the damn field. (Laughs) I got a ton of respect for him. He's another guy that his IQ for the game of football is off the charts. He's obviously physically gifted. He's played this game at a high level for a long time. I appreciate those words. But I'm sure when, and if we play each other this year, he's not going to do anything to try and help me get those 5,000, so I'm going to have to earn them on him.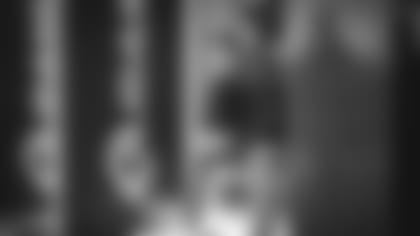 Sarina: Apparently you don't like social media? So, what app do you find yourself using the most?
Matthew: I just get my news through probably Apple news. That would be how I get my news and stuff. That's probably the one I read the most, trying to keep up with what's going on in the world rather than, what people had for breakfast.