If you knew much about Aaron Donald before this season, the results probably aren't a surprise.
Even when he was staying away from the team as his representation was negotiating his six-year contract extension, Donald let the world know how hard he was training with videos on social media — like the famous ones of him training with rubber knives.
And when Donald signed that lucrative deal back on Aug. 31, he said what he always does: Hard work pays off.
For Donald, it has — there's no doubt. But it's not like Donald's work ethic was impacted in a negative way once he put pen to paper.
If anything, according to defensive coordinator Wade Phillips, that deal only made Donald want to work harder.
"I think when he got a big contract like that he feels like that he has to accomplish a lot — and he's done that. It goes hand-in-hand," Phillips said.
And following Thursday's practice, Donald confirmed that is, in fact, the case.
"Oh, 100 percent," Donald said. "I feel like the words, 'Thank you,' ain't enough. You've got to show it. So just going out there, trying to play at a higher level. Instead of saying thank you — show it."
Well, if actions speak louder than words, Donald has been yelling "THANK YOU" all year.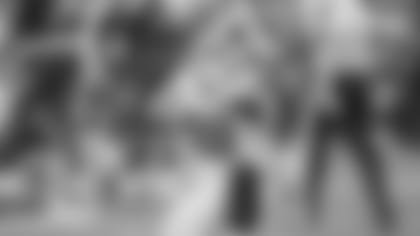 You're probably familiar with the numbers by now, as he's recorded 19.5 sacks, 24 tackles for loss, and 38 quarterback hits. Those 19.5 sacks are a single-season franchise record, and are the most by an interior lineman since the sack became official in 1982.
Having set both records in last week's victory over the Cardinals, Donald allowed himself a little time to reflect on the moment while on the way back to Los Angeles from the desert.
"I sat down, I was on the bus and I kinda had to toughen up a little bit — not shed no tears," Donald admitted. "But definitely a blessing. Anytime you're a part of history, you're gonna be happy about it — blessed about it. And you come away with a win, too, so it's even better."
Wait — this guy? Arguably the most fearsome defensive lineman in the game, having to hold back tears?
"[I]t's a part of history. That's the stuff you dream about," Donald said. "You always want to have success, but you never think it'll be as big as it is. So, just playing the game, putting the body of work in, and watching it pay off, it means a lot."
So would breaking Hall of Fame defensive end Michael Strahan's overall sack record. Donald needs only 3.0 to tie, and 3.5 to pull ahead of the former Giant's mark, set back in 2001. And given that he recorded a 4.0-sack game in Week 7 against these upcoming 49ers, setting the record is not out of the realm of possibility.
However, that doesn't mean Donald is going to go out of the framework of the gameplan to get it.
"It would mean a lot, but I'm just gonna go out there and play football, try to do my part to help us to win because this is a big game for us this week," Donald said, simply.
But if Donald is going to be humble about it — which, truly, he always is — then it's best to let a teammate do the talking for him.
"I hope he gets it. I really hope he gets it," running back Todd Gurley said. "I don't know what to say about that dude, man. It's incredible. It's an honor to be able to just witness greatness and play alongside him. I haven't seen nothing like it. I say it every time, I really don't even know what to say about him, man. He's a great person, great leader and even better football player. He's the best football player I've ever been around."
Check out the renderings of the new LA Stadium and Entertainment District