For the third-straight year, former Rams wide receiver Isaac Bruce will sit in his hotel room in the Super Bowl's city, awaiting a knock on his door the night before Super Bowl LIII, and later his gold jacket and immortalization in Canton, Ohio's Pro Football Hall of Fame.
Bruce is one of 18 finalists for the Pro Football Hall of Fame's Class of 2019 — 15 candidates from the modern era, two senior finalists, and one contributor finalist. He was a member of the 1999 Super Bowl Champion Rams and "Greatest Show on Turf", a four-time Pro Bowler and is the Rams' all-time leader in touchdown receptions (84) and receiving yards (14,109). Bruce finished his career in San Francisco with 1,024 receptions, 15,424 yards, and 91 touchdowns.
TheRams.com caught up with Bruce in Atlanta just before his third suspenseful afternoon as a HOF finalist and his former team's first Super Bowl appearance since he took on the Patriots in Super Bowl XXXVI: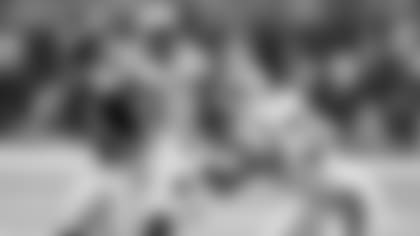 Clarence Dennis: Last year, one year after not being named to the 2017 class, you said you had the chance to feel frustrated, confused, or grateful. Do you remember what you chose?
Isaac Bruce: I chose grateful, right? I'm the same. I'm choosing to be grateful and like I said, I've taken my hands off of it, I'm letting other people bring it up and if they ask me a direct question, I give them an honest answer and I just move on from there.
Dennis: After being in control of your play on the field for so many years, what is it like to have this out of your hands?
Bruce: I look at it like this — I think you still have control. Like those choices you just named, it could either be one of those three things, you just can't be both. You can't be frustrated and grateful at the same time, so I choose to be grateful. To be among the 15 finalists to be enshrined in the Hall of Fame with the greatest players to have played this game — some of those guys I grew up watching. It's humbling. That's what it is, it's humbling and you got to experience it that way.
Dennis: Is there anyone you would be particularly honored to join in the HOF?
Bruce: Dan Marino. I grew up watching Dan Marino, I grew up watching some other great players who played other positions, but I guess Dan Marino would be that guy.
Dennis: I have to ask, what are your thoughts on the 2018 Rams? I know they have drawn comparisons to the Rams of the early 2000s.
Bruce: It's fun. I think that every game that we've played in since the McVay era, we've had a chance to win it. I think the creativity is great, everything pre-snap is awesome, I think he's a coach that forces the defense to be on their heels as opposed to being on their toes. Whenever you get a guy like that and the talent that we have, it's a great mix and he's handling it, he's treating it very well.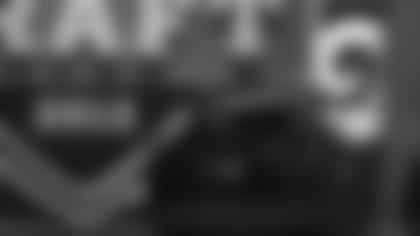 Dennis: Has this HOF process has been any more special because the Rams are in SBLIII?
Bruce: Oh yeah, absolutely. I mean any time you have a dog in the fight — I mean I only have one dog and that's with the Rams — and they are here playing in the game, the actual game, that bodes well for myself and the rest of the alumni. We get a chance to get some equipment with our emblem on it, with the Super Bowl icon on it. This is fun, man.
Dennis: Do any of your 91-career touchdowns stand out?
Bruce: I remember my first, it was here in Atlanta, it was also my first catch. I'd have to say… I think I had three Monday night in New Orleans. It was loud, it was crazy, I caught one in the corner of the end zone amongst what sounded like a hurricane happening and then it went completely silent.
Dennis: That has to be a good feeling
Bruce: It was great, man. Just quieting that crowd.
Dennis: If the day comes, who are you thanking in the speech?
Bruce: That's another decision, I think my list is about three people strong right now. I got my choice of three and we will see.
Dennis: What goes through your mind sitting in the room and waiting to find out if you're in? Or is it kind of just like you're hanging out?
Bruce: Yeah that's it. I've got obligations to do before I have to actually be in the room and it's going to eat up a lot of time. I think last year — it was so cold in Minnesota — I was in the room watching college basketball. So I'll be interested in seeing who's playing college basketball this time to see who are the up and coming players.
Dennis: When you realize, 'OK I'm making my way in this league' do you think about one day entering the HOF at any point throughout your career?
Bruce: I think the first time I actually truly thought about being in the Hall of Fame and actually playing was when I passed 12,000 yards. When I had 12,000 yards, it was like 'OK that's pretty good.' Then you have guys who work in the media, they come up to you and say congratulations you just did this, and this guy had this, and it's like 'Woah, OK' and you feel like you have more juice to play. Fortunately after I hit 12,000 [yards], it immediately blew by and was 15,000 [yards] and I was told I was the second man to ever have 15,000 yards receiving, I was like, 'Woah that's big, there's only one other person that did that,' and for me to be number two, that was humbling.
Dennis: And that was the moment that you knew?
Bruce: Yeah I was like 'Oh OK, this is what happens when you have that level of production.'
The four-to-eight Pro Football Hall of Fame class of 2019 inductees will be announced at the NFL Honors event on Saturday, February 2 at 6:00 p.m PT at the Fox Theater in Atlanta.