Tuesday will mark four weeks for the Rams and running back C.J. Anderson.
The addition has worked out nicely for each party since L.A. picked up the back in the early part of Week 16. That was when the 11-3 Rams were starting preparations to beat the Cardinals and prevent the first two-game slide under head coach Sean McVay from becoming a three-game slide, heading into a truly day-to-day situation regarding the status of running back Todd Gurley's injured left knee.
Since Week 16, Anderson has averaged 140 yards per game on the ground and picked up four touchdowns. Anderson rushed for 104 yards total in nine games as Panther this season.
He finished a yard shy of matching his career high in his debut against the Cardinals with 167 yards rushing and never looked back. Most importantly the Rams won with Anderson, getting back on track, sweeping the division, and locking down the No. 2 seed and first-round bye.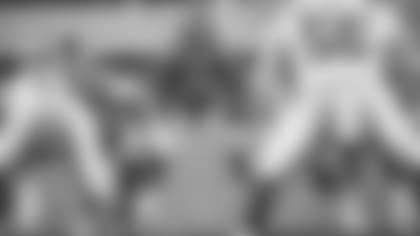 "It's how you handle things," Anderson said when asked if he could have imagined the status quo. "For myself, I just always kept my head down and kept pushing. I always believed in my ability and what I could do."
Now in striking distance of a seriously big ring, Anderson's effectiveness as Ram has evolved, thanks to the return of Gurley.
The pair flipped the script on the Cowboys in their first game taking the field rushing in tandem in the Divisional round. Anderson and Gurley became the first pair of Rams rushers in franchise history to each pick up at least 100 yards on the ground in a playoff game.
"I guess it was a good thing I got hurt," Gurley said with a laugh. "C.J. got me, was able to come in and was able to do his thing. I mean he's been doing his thing his whole career. The last three weeks been phenomenal, 100 yards each time, so we just going to keep it going."
Many of the early-season conversation surrounding the creativity and innovation coming from McVay's camp had died down by playoff time. The No. 2 scoring offense in the NFL was certainly noteworthy entering January, but it wasn't what Saints head coach Sean Payton is suddenly preparing for — the NFL's hottest running back 1-2 punch.
"If [Gurley] wanted to play 98 percent of the snaps, then we were gonna let the man be the man. That's why he's one of the best backs in the league," Anderson said. "But I think him seeing the opportunity of being fresh, not taking as many hits, and having the workload on passing downs and run downs — I think that helps."
In addition to welcomed rest for the backs — Gurley took 57 percent of snaps on Saturday, Anderson, 43 — the duo offers some variety coming out of the Rams' backfield.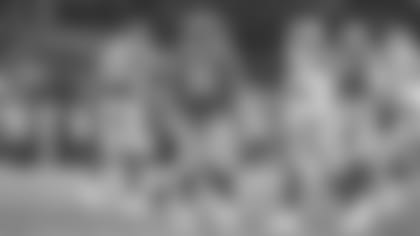 At 6-foot-1, 224 pounds, Gurley out strides defenders. If it isn't a foot race, No. 30 will extend a long stiff arm, leap left or right with an ex-hurler's juke — if you ask former Washington safety Bashaud Breeland, Gurley might just leap right over anyone between him and the end zone.
In the name of player safety, things could go seriously wrong if Anderson, a self-described "fat kid," made an attempt like Gurley's trademark hurdle — and that's OK. Anderson, who is listed at 5-foot-8, 225 pounds, offers a different physical build as Gurley, as well as a different skill set.
Where Gurley would juke and get skinny through defenders to find green grass and draw the "Ahh's," Anderson might opt to blast straight through an opposing shirt and draw near-sympathetic "Oh's" as pads pop.
Anderson's differing skill set is no secret. Just ask the Cowboys — or better yet, Anderson himself.
"I can't go 70 [yards]. Todd can go 70 — 80 if he wants to," Anderson said, similing the day after the win. "From the 40 in, man. You know? When they say the 40 at the [NFL] Combine matters, that's where it matters."
Lucky for McVay, it doesn't matter, because he has the backs that can do both. The 32-year-old playcaller just might have himself a difference maker in the playoffs, when every yard matters — especially in milking the clock, keeping quarterback Drew Brees sidelined.
The late-season addition to pick up yards against the bottom of the NFC West and buy time for a star running back's knee to heal in time for hopefully a playoff bye, turned into two no-question wins for L.A. and back-to-back games of at least 130 yards rushing from Anderson.
After a jaw-dropping night for the pair, running wild against the Cowboys and feeding alphabet soup to members of the football media landscape who said that wouldn't happen, McVay's offense has clearly added a new, effective wrinkle.