The Rams linebacker opens up about his family and how those closest to him inspire him to bring his best to the field each day.
Cory Littleton dug his fingers into the turf, a few feet from the opposing goal line and just 10 yards from where Chargers punter Drew Kaser awaited a difficult kick backed up in his own end zone. At the snap, Littleton exploded to his left, wrapping tightly around teammate Blake Countess and dove head first into his next opportunity – the kind that landed him in this position in the first place.
The third-year linebacker sent the home crowd into a frenzy, blocking a punt that Countess would pounce on for a Rams touchdown. As a San Diego native who fought his way to this moment through his special teams prowess, it was only fitting that his story would align this way.
However, not every situation has presented itself as favorably. Despite growing up in some less than ideal circumstances, Littleton has learned to make the most of any situation he finds himself in.
"I feel like everything you go through in life makes you who you are. I didn't necessarily have everything I needed. At the same time, I didn't have the least out there," said the Rams linebacker. "My mom always made sure I had enough. We always survived. My dad always helped out whenever he could."
Littleton's bond with his mom, Toni, runs deep. Inscribed on his right arm you will find a tattoo of her name and Capricorn horoscope – a tribute to the woman he credits for helping him reach this point.
Now the father of two kids under two, C.J. and Nailah, Littleton draws from past experiences as he strives to ensure his little ones have a better childhood than he once did.
"That's my excitement when I come out here on this field. Everybody has to find some type of source to come out here and want to do what we do. That would be my thing the most," said Littleton with a smile. "That's the first thing I do as soon as I leave here."
Littleton is fully aware that football can be fleeting, especially on the professional level. Placing his family atop his priority list ensures that he always keeps that in perspective.
Reflecting back on the final day of cuts during his rookie season in 2016, the undrafted linebacker out of the University of Washington recalled the nerves he felt as former Rams head strength coach Rock Gullickson walked towards him after practice.
"Rock was the one that grabbed everybody to send them to the head coach and let them know. He was walking in my direction and he came close to me and he went to the left of me and I just kept walking past. So, I told my whole family. I was like, 'We good! We good! He walked past me!'"
It's that family that drives Littleton to bring his best every day, and perhaps one of the reasons the Rams linebacker has flourished in Sean McVay's "We Not Me" culture. Now in his third NFL season, Littleton wears one-of-two "green dot" headset helmets allowed on the field, making him responsible for communicating play calls from the coaches to his fellow defenders. The 24-year-old recorded at least eight tackles and one pass deflection in four of L.A.'s first five games, as well as getting his hands on two more punts after blocking a pair in 2017.
Despite some bumps in the road, Littleton looks back on his journey to this point with a sense of fulfillment.
"Guaranteed proud to still be here when there was a moment when I was scared I wasn't even going to be here at all."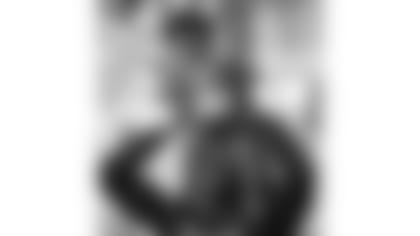 Five Things to Know About Cory Littleton
What's your go-to fashion accessory?
I'm a sock guy, definitely. I own 60 pairs of socks at least.
What's your favorite hobby off the field?
I'm a movie connoisseur. I could chill and watch movies all day.
Who was your favorite athlete growing up?
LeBron James is my all-time favorite, but football it was (Broncos OLB) Von Miller.
What's your guilty pleasure?
I'll eat Flamin' Hot Cheetos every day. Every day. A bag a day.
What's your hidden talent?
My first love. I'm a basketball player.