If you've spent much time on social media anytime over the past few months, you've probably seen Rams defensive tackle Aaron Donald working out.
Maybe you've seen him training with (fake) knives. Maybe you've seen him pulling a weighted sled. Maybe you've seen him practicing agility drills with a ladder.
Either way, it's pretty clear Donald keeps himself in pristine shape throughout the year. So much so that he tried to take two weeks off before getting back into the weight room after the 2017 season ended. But…
"I took the first week off and then I got back in the weight room after that," Donald said in a recent interview with therams.com. "I tried. Honestly, I tried to stop and just relax, but it's hard for me to relax — I don't want to fall behind."
That's just the kind of player Donald is. Which is why it's not much of a surprise that he's already settled back in with the Rams' defensive unit as the club prepares to take on the Raiders in Week 1.
"Aaron looks good," head coach Sean McVay said. "I think he's getting more and more comfortable. Just in terms of being able to just see the player, the way that he's locked in — it's good."
"A.D. is a pro, man," fellow defensive lineman Michael Brockers said. "He has been studying the playbook, he's been watching film — so literally we plugged him in and he did what he was supposed to do. So we haven't skipped a beat."
That was clear even from Donald's first practice when he returned to the club and signed his extension a week ago.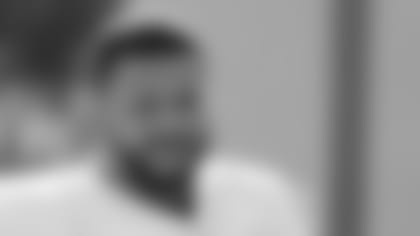 "We probably had a 50-play practice [last Friday], in which he maybe got 25, 30 reps," assistant head coach/linebackers coach Joe Barry said in a recent interview with therams.com. "But we as a coaching staff after practice come in and watch it and it was just like, 'Oh my God is this guy good.' So it's just exciting."
"[I]f you talk to Aaron or follow Aaron on Instagram and see what he does every single day," Barry continued, "it's not shocking that he can come in and jump right in."
In fact, Brockers said getting Donald back in the fold has actually raised the unit's urgency in practice.
"We honestly picked up the tempo having a talent like that on that side of the ball," Brockers said. "He's done a phenomenal job and I think we'll be ready come Monday."
For his part, Donald said after Thursday's practice that he's feeling like the rust is getting knocked off and he feels good. In some ways, it's helped having gone through a similar process last year.
"Yeah, you kinda know what to expect and I'm going to get six practices under my belt before the first game," Donald said. "So I think that's going to be a bigger help for me as far as getting adjusted out there just playing football again."
While they've yet to take a live snap together, Donald said it's been nice to play with free agent signee Ndamukong Suh.
"He makes my job easier," Donald said. "When you have guys like him, Brock, 'Eas' [OLB Dominique Easley] next to you, you tend to know the guy next to you is going to make plays just like you are going to make plays. You're just a little more comfortable — you just feel good."
Other than getting back into game shape, one challenge of playing the Raiders is that there's no real film of their offense. That's magnified by the fact that head coach Jon Gruden — also the team's offensive play caller — has not coached since 2008.
"You've just got to study the offensive line and their weaknesses and strengths that they did prior years," said Donald, who is an avid studier of film. "But all the information that the coaches are giving us from watching film — we've just got to go with it."
And go with it Donald will. McVay said the Pitt product won't be on any kind of playing-time restrictions for Monday's game.
"Yeah, he's gonna go," McVay said. "I think he's doing everything in his power to get himself ready. And it's been a short time, but this is something he has been through before. And there's not going to be any limit on his snap count."
"He's ready to go. He's ready to play," defensive coordinator Wade Phillips said. "So, we're excited about it. I'm excited about it. Anytime you have a great player like that, you try to utilize what he can do — but he can do about anything. So, we just let him go."
Check out photos as the Los Angeles Rams prepare for the Week 1 matchup against the Oakland Raiders.