DETROIT — A defensive player for MVP?
Right now it doesn't seem completely out of the realm of possibility.
That's how good defensive tackle Aaron Donald has been in 2018.
This is a player who did not attend one workout during the offseason program. Not one OTA. Not a day of training camp. When Donald signed his long-term extension at the end of August, he'd essentially been away from the team since the playoff loss to Atlanta back in January.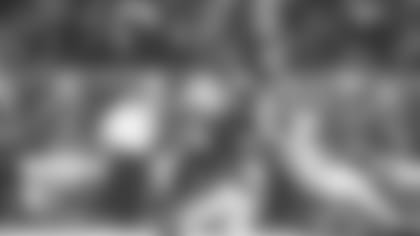 Donald has been an excellent player since he entered the league back in 2014. But what he's doing this year is almost beyond description.
Through 12 games, Donald has 16.5 sacks, 20 tackles for loss, and 32 quarterback hits. For some perspective, Donald won 2017 AP Defensive Player of the Year with 11.0 sacks, 15 tackles for loss, and 27 quarterback hits.
He is a game wrecker, and once again ruined an opponent's day with five total tackles — four for loss — 2.0 sacks, four quarterback hits, and one forced fumble.
So yeah, MVP? Players and coaches are being asked about it at this point with good reason.
"That's not for me to decide, but I certainly know that he's made a huge impact in a variety of ways — influencing and affecting the game, whether it be as a rusher, in the run game, being able to move him around — he's a phenomenal player and it's a credit to him and the other 10 guys around him," head coach Sean McVay said. "But Aaron is special, he really is and he's done an excellent job."
McVay may have used a bit of coach-speak in describing Donald, but the defensive tackle's teammates just heaped praise.
"I think he should be in the MVP talk — someone asked me earlier and I think that he should be and that's not just because he's on my team," safety John Johnson said. "He dominates backfields and that's hard to do."
"He deserves everything. He deserves all the success. Whatever they give him, he deserves it," cornerback Nickell Robey-Coleman said.
"I've never played with a guy like that, and yes he should be applauded, rewarded to the highest degree of reward. What he does, how he comes to work every day, what he does, putting in the work, his day-to-day routine and how you go about things — he's a true professional, he deserves all that."
"Definitely, definitely. You know when Lawrence Taylor won the MVP he was just dominant, nobody could stop him and it's just the same story with [Donald] — dominant, you can't stop him," outside linebacker Dante Fowler said — and he just started playing with No. 99. "I think he's going to change the game in the future, and when it has to happen he makes big plays and that's what is special about him. I know everybody likes to see touchdowns and all that good stuff, but you got to take a look around the other side of the ball and see what Aaron Donald has been doing this whole season."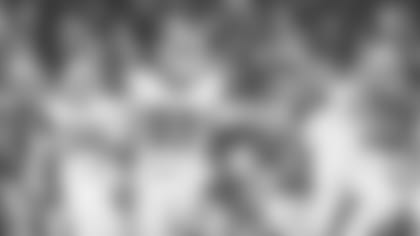 Even the offense echoed the same kind of effusive praise after Donald's Sunday performance.
"There isn't really much to say, man," running back Todd Gurley said. "All you need to say is that damn A.D., you know he's always making plays — that's why I'm never really worried — you got a guy like him back there to help make plays and he does it every week, every week, every week. It's understood and doesn't have to be explained, you already know what you're getting with him."
"He's unlike anything I've ever seen," Goff said, adding that he sometimes goes to an official or two just to ask about how Donald is doing on the field. The quarterback did that today. "He's like, 'He's the best I've ever seen.' So you hear that a lot and again, happy he's on our side and we don't have to face him. He's incredible and deserves everything coming his way."
Donald was effective all game long, but he turned it up to yet another level in the fourth quarter of Sunday's 30-16 victory. The Pitt product's first sack came on a 2nd-and-7 play with Detroit near midfield with 11:34 left in the contest.
"Even like if we get gashed on first down, he'll find a way to get us back on track," Johnson said. "You know how offenses like to get back on track? Aaron Donald gets us back on track — somehow pops up in the backfield and gets us in a manageable situation."
That's what happened there, as Donald's sack brought up 3rd-and-13, which Detroit failed to convert on a five-yard screen to wideout Bruce Ellington.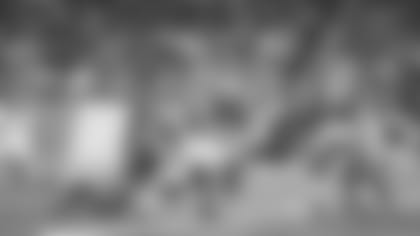 Then on Detroit's next offensive drive, Donald brought down Stafford with a strip-sack — his third in the last two games. Outside linebacker Samson Ebukam fell on the loose ball to give the Rams the ball deep in Lions territory.
"Well he held the ball and he was loose with it, so I just took advantage of that," Donald said.
The offense took only three plays to get to the end zone, with Gurley taking in a 13-yard carry into the box to extend Los Angeles' lead to 23-13.
It was an example of the Rams playing complimentary football, which tends to happen when Donald makes those kinds of plays.
"Big-time players make big-time plays in big-time games, and that's what we need to keep doing," Donald said. "You know, a lot of guys are doing it, so you got a bunch of guys like that flying around making plays, you get good things out of it."
Donald's knack for not just making plays, but also making them in key spots has been uncanny in 2018. The defensive tackle said he doesn't really get any extra juice for those "big-time situations" — "I'm like that every play," he said — but it's something many Rams have noticed throughout the year.
"Yeah, definitely, and we needed them today," Goff said. "We were struggling offensively and couldn't get anything going — especially in that second half — we were stalling and I wasn't playing very well, we couldn't really move the ball any way and for them to make those plays and keep us in the game, keep the momentum on our side, just a full team effort and we've shown different ways to win and it's great when Aaron is incredible and our whole defense is incredible."
"He's forcing turnovers, he's getting there at the most important times and that's what we talk about all the time — that competitive greatness, being your best when your best is required and he's kind of the epitome of that right now for our defense, and really a guy that represents that for our football team," McVay said.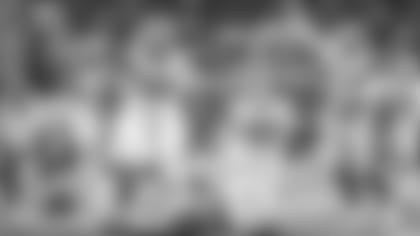 With 16.5 sacks through 12 games, Donald has a real chance to challenge not only the sack record for interior lineman at 18.0, but also Michael Strahan's overall single-season sack record of 22.5 set back in 2001.
And while Donald's outrageous production — he has five multi-sack games in the Rams' last six contests — makes his job seem effortless, he assured reporters it isn't.
"It ain't easy, definitely a lot of work," Donald said. "Just trying to find ways to try and help my team to win and when plays present themselves, taking advantage of it."
So, again, Donald for MVP? He's at least not going to campaign for it himself.
"That's for whoever's voting," Donald said. "I'm just trying to play my game and help my team win and whatever happens happens."