The Rams beat the Lions, won the NFC West, and celebrated in Ford Field's locker room on Sunday — and outside linebacker Dante Fowler played a big part in all of it. 
The Rams offense did not have its "A Game" in Detroit and running back Todd Gurley knew it. Both Gurley quarterback Jared Goff said they needed their defense to step up in order to get the job done against the Lions.
"We probably have had like two complete games, but the offense has got defense's back, defense has our back, special teams as well," Gurley said. "If one is down, the other it going to be up, and that's what happened today — the defense did their thing, they held us down…"
The Rams offense did not look remotely like it did two weeks ago against Kansas City for the majority of Sunday's game, but the defense was stout. While the offense couldn't find the end zone but once in the game's first three quarters, the Rams' defense was reeking havoc in the Detroit backfield — recording four sacks and nine total tackles for a loss. 
The Rams held the Lions to just 16 points in the clinching performance, and while defensive tackle Aaron Donald's third strip-sack in two games, and swift pass rush moves might dominate highlights and generate MVP discussion, Fowler set the tone against quarterback Matthew Stafford and his dinged-up offense, and continually gave his own offense momentum and chances.
Fowler's impact was made via five tackles — three for a loss — one sack, and one quarterback hit against the Lions. The former No. 3 overall pick got things started for the Rams on defense, earning the first of L.A.'s four sacks, and coming up with a big TFL as Stafford marched into Los Angeles territory — both plays came during the Lions' second drive of the game. 
After the game, Donald said Fowler is fitting in just fine and lifting the play of those around him. If anyone knows how big plays can affect a game, it's No. 99.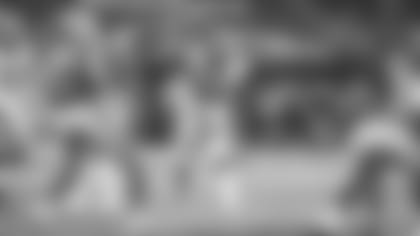 "Good, like I said when he first got here, any time you bring more playmakers to your team, you're going to be happy because those guys are going to make plays, then it's going to motivate other guys to make plays, then you got a bunch of guys that are flying around hungry," Donald said. 
"[W]hen you're playing with guys like Donald and [DT Ndamukong] Suh, other guys like [OLB] Samson [Ebukam] and [DE] John [Franklin-Myers], and all those other guys — we can just go out there and just play fast and I feel good, just so honored to be able to be a part of a defense like this," Fowler said.
Fowler has succeeded so far as a member of the 11-1 NFC West Champion Rams. In four games alongside his new cast of All-Pro defensive teammates, Fowler has logged 13 tackles, four tackles for a loss, 2.0 sacks, two quarterback hits, a forced fumble, and fumble recovery. 
Just a over a month since he was traded to the NFL's top team, Fowler was thankful in his NFC West championship threads.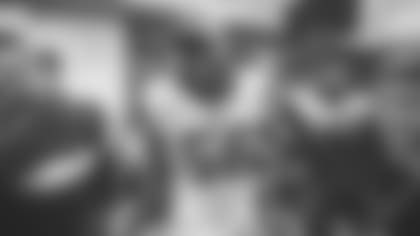 "It's an honor just for these guys to believe in me and it's an honor — I don't want to let these guys down, I want to show them that the guy they brought in — I'm a great player and that you guys can depend on me and count on me."