The Los Angeles Rams (8-1) are yet to lose in back-to-back games under head coach Sean McVay and will look to continue that trend on Sunday against the Seahawks (4-4).
The Rams will host the Seahawks for the teams' second meeting in 2018. In Week 5, the Rams got the best of the Seahawks in a two-point victory at a dreary CenturyLink Field in Seattle. Then-Rams kicker Cairo Santos won it for Rams (33-31), with a 39-yard go-ahead field goal late in the game. While Santos' points provided the final of six lead changes in the contest, it was McVay's 4th-and-1 quarterback sneak play call and Jared Goff's diving effort that iced the game. The conversion allowed No. 16 to kneel the clock away.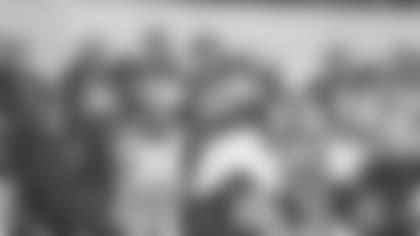 Santos' field goal, McVay's gutsy play call, and three touchdowns by running back Todd Gurley were all required to remain undefeated in the team's first divisional road test as it marched through the season's first half. The divisional rivals' second clash now presents the one-loss Rams an opportunity to get back on track.
"Whether you win or you lose, we come in today, we correct the mistakes, we use it as a positive to move forward and now we get ready for Seattle, whether you end up winning or losing that game," McVay said on Monday.
"I think our players have done a nice job when you do face small forms of adversity, of not allowing that to affect us moving forward. I think that's a credit to both the coaching staff and the players. For us, it's about moving forward in the right way, using this as a good tool and being consistent with our approach week-in and week-out. That's what we expect to do this week."
One key to getting back into the win column for L.A. should be stopping Seattle's rushing attack. The Seahawks have totalled at least 150 yards rushing in each game since since defeating the cardinals in Week 4, and currently offer league's third-best run game — averaging 137.1 yards rushing per game. The Seahawks rushed all over the Rams defense in Week 5, totalling a season-high 190 yards and one touchdown. 
Following L.A.'s worst attempt at stopping the run all season, defensive tackle Ndamukong Suh was candid about his unit's performance, calling it "terrible, without question." 
With Seattle's run game well established entering Week 10, defensive tackle Aaron Donald diagnosed the Week 5 porous effort, admitting his line did not stay in its gaps. He assured that will not be the case this week.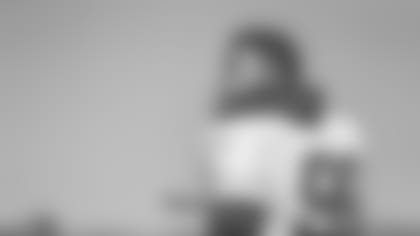 "It was just gap-sound, we were trying to do too much at times — it's a part of the game — we corrected some things, we fixed some things, and it isn't going to happen again," Donald said.
Although the Seahawks are one of the league's best when it comes racking up rushing yards, Seattle's cast of running backs in Chris Carson, Mike Davis, and Rashaad Penny combine for just five rushing touchdowns. The bulk of Seattle's scoring comes through veteran quarterback Russell Wilson, whose shifty, off-schedule touchdown slinging ability continues to keep defenses on alert in his seventh professional season. 
"We've got a good scheme and we play these guys twice a year, so we know what to expect," Donald said. "Russell Wilson has a strong running game, so gap sound and get after him."
"[H]e's going to move around, he's going to make his plays," cornerback Marcus Peters said this week. "He's like Houdini back there, you feel me? So we've just got to do our jobs."
Wilson is yet to reach 300 yards passing in a game this season, but has thrown 18 touchdowns to seven different receivers — including Seattle's fifth-round draft pick, punter Michael Dickson. 
If the Rams do send out an improved defensive effort against Wilson's offense and have Dickson busy in the L.A. Coliseum, Seattle's defense will work to contain Goff and his fully-healthy offense coming off the third-year quarterback's second-best performance of 2018.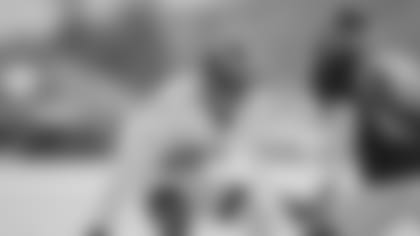 Goff had 391 yards passing and three touchdowns against the Saints. After the loss, Goff said his team's 21-point, second-half comeback was a testament to his club's culture and ability to take each game one play at a time. 
With a performance that was just about on pace with quarterback Drew Brees' winning effort, Goff said Sunday's game against the Seahawks is big no matter what — whether it's after a win or loss. 
"It's a big division game for us," Goff said. "Every division game is important, but no different than any other game. We're going to come in and approach it the same way and try to put our best foot forward the whole week and get ready for Sunday."
Earlier this week, Seahawks head coach Pete Carroll said his defense is hoping to uncover and establish its identity in the second half of the season. 
Goff and the Rams tacked up 468 yards of total offense Week 5 in Seattle against a Seahawks defense that did not feature linebacker K.J. Wright, who missed the first seven weeks of the season to a knee injury. 
Wright returned to action in Weeks 8 and 9, and recorded 12 tackles, 2 passes defensed, and one tackle for loss in two games. 
"K.J. Wright's back, so that's going to be a good thing for them," Gurley said this week. "Obviously, played a lot of jam against us last game. Not sure if that was the case because K.J. Wright was out and [OLB] Barkevious Mingo was at 'backer. I know when K.J. Wright's in there, him and [LB] Bobby Wagner are a pretty good duo at linebacker. The defense kind of runs through those guys."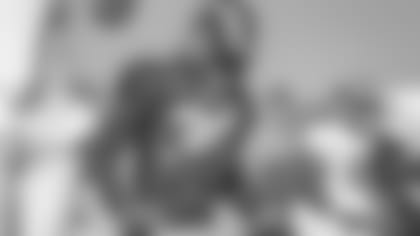 Gurley is not wrong. In 2017, Seattle's Wagner and Wright combined for 241 tackles, 18 tackles for a loss, and 15 quarterback hits. However, Wright's name has popped up on the club's injury report this week along with a cast of his defensive teammates, including safeties Bradley McDougald and Tedric Thompson. 
On the offense, running back Chris Carson injured his hip in Week 9 and has not participated in practices this week. The report also lists wide receiver Doug Baldwin and right guard D.J Fluker, who was outspoken about "not fearing" L.A.'s power-packed defensive line following their last meeting.
For the Rams, fans may be encouraged to see a relatively non-existent injury report this week. Other than typical veteran and star-running back rest for seasoned offensive linemen and Gurley, L.A. appears to be entering Week 10 healthy.
Finally, McVay said on Thursday that the club is planning for a moment of silence in the L.A. Memorial Coliseum before Sunday's kickoff. The moment will pay respect to those affected by the tragic shooting that took place late Wednesday night in Thousand Oaks, California.